Branch Blog - New York, NY
Sun, January 31, 2010 • No Time Toulouse!
Salutations, singes d'art!
Bienvenue to le Dr. Sketchy's Anti-Art Blog! At the last session, we went back in time and location to Paris during the fin de siècle, the heyday of the Moulin Rouge, when anything could happen, especially if it involved syphilis! It was there that we met
Henri de Toulouse-Lautrec (as portrayed by Nik Sin) and
Marie-Charlotte (as portrayed by Dante Posh).
Oh la la! Or as they say in Paris, "Oye como va!"
No, really! When Tito Puente played in France, they would totally say that! Don't argue with me!
This is a faithful recreation of Toulouse-Lautrec's actual method of drawing.
The winner of the Left-Handed Drawing Contest had lost his Etch-A-Sketch when he was a child and finally got a replacement at Dr. Sketchy's Anti-Art School. Once again, Dr. Sketchy fulfills wishes decades after they are wished.
Randy Newman famously sang, "Short people got no reason to live." Paul Simon, for instance, was quite short and he was a very talented and successful singer and songwriter who redefined folk music for an entire generation. Henri de Toulouse-Lautrec was short and he was an extremely prolific painter, a founder of Post-Impressionism, and one of the greatest artists of all time. Then there was Napoléon Bonaparte, who conquered most of continental Europe. And what did Randy Newman do with his life? That's right - absolutely nothing! Up yours, Randy Newman!
This is a traditional French dance called the "Hey! Look at my Underwear!"
French Fun Fact: The French traditionally make wine by stomping on grapes with their bare feet, then drink this wine out of women's shoes. This may or may not be related to the unusually high incidence of ringworm among French alcoholics.
These psychedelic selections were from our contest inviting artists to incorporate absinthe into their drawings. Outside of the contest, though, it should be noted that Dr. Sketchy encourages artists to incorporate absinthe into all aspects of their lives.
The prize for the contest was a book from Baby Tattoo. Hi, Fructose!
The artists at Dr. Sketchy's Anti-Art School are way more talented than you.
Artistic asphyxiation? This may very well be the kinkiest thing I have ever seen.
The model drawing the artist? What a twist!
The theme of the Drinking Contest was to incorporate the most hurtful and offensive and downright spiteful French stereotypes into the drawings.
Here, Toulouse is a bad little froggy.
This artist went a step even further, drawing Nik as an anthropomorphic frog thing, satisfying the fantasies of all the French furries in the audience.
And Amie completed the scene with cigarettes, wine and a moustache.
Here the models are blasé and suffer from ennui, and I would too, if I were reading Marcel Proust.
This drawing is so dense with French stuff, that I no longer feel the need to actually visit Paris.
This surrealist entry features a baguette in a striped shirt and beret, which is adorable.
Only one word can describe this drawing: Magnifique!
The prize was a French martini with a red wine chaser, which is the Frenchest thing you can give a person to drink.
Vive la Reine!
That's all the time we have for this blog. Thank you to Molly, Justin, Melissa, Hilary, Foley, Ruth, and Dolcy. I'll see you all next session!
-----
RSS
NYC Events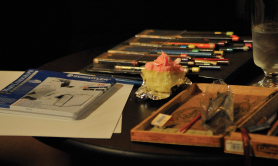 Art Tumblr
https://vimeo.com/81362468