Branch Blog - Baltimore, MD
Mon, October 15, 2012 • Nona Narcisse on the wing.
Make sure to watch all the way to the end, past the credits. : )
This was Nona Narcisse's second time posing for Dr. Sketchy's Baltimore. As Alexis likes to put it, Nona is like a bird - she spends her winters in New Orleans and migrates up to Baltimore and other places here and there for the summer. If we get lucky, maybe we'll get a chance to see her again next summer.
Photo by Jeff Schock
Atomic Books, up on the corner of the Avenue and Falls Rd in Hampden, provided a fancy-pancy Betty Paige hip flask for one lucky contest winner and Baby Tattoo Books provided a copy of Atrum Secretum by Gris Grimly for another.
Thank you to John Schloman, Kimberly Keyes Stark, Hannah LeVasseur, and Tim Kelly for sending in their artwork which you can see by following this link. Scroll to the bottom for the gallery.
Thanks to Nona Narcisse of Slow Burn Burlesque for being our muse for the evening; thanks to our sponsors Atomic Books and Baby Tattoo Books for providing prizes for the contests; thanks to Russell for slinging booze and music; thanks to Jeff for some of the photos you see below; thanks to Valeria Voxx for helping set up the stage and hold down the fort at the door; and thanks to Alexis for emceeing the whole affair.
RSS
NYC Events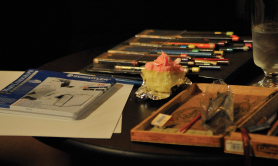 Art Tumblr
https://vimeo.com/81362468