Branch Blog - Minneapolis, MN
Fri, December 10, 2010 • November session featuring Kitten Van Der Snatch!
What an awesome session! November 28th marked the inaugural session of singing at Dr. Sketchy's Twin Cities. The lovely Kitten Van Der Snatch did her breath taking and hilarious rendition of Rossini's "Largo al factotum." We honored the birthday of Motown Mogul Berry Gordy and showcased some awesome skills in shading. Congrats to our winners and thanks to all who came out on the holiday weekend.
RSS
NYC Events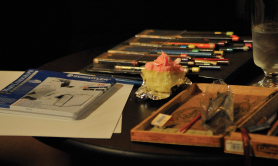 Art Tumblr