Branch Blog - Brighton, UK
Tue, September 14, 2010 • October 2010 SPONSORS
Fred's Flying Circus: the best little circus in the world!
Two Fingers LP: featuring Sway, Ms. Jade, Ce'cile and Kevin Tuffy
Cherry Gemma clothing and art
VooDoo Vaudeville: Fantasmagoria! Nov 20
red mutha: one-off, customized and recycled fashion!

SHOP cookie chang! art and art byproducts by ramey holsman
SHOP kpie88! original watercolours by kate cooper Here's a big THANK YOU to all Dr. Sketchy Brighton Sponsors for October 2010! Take a moment to check these amazing businesses out.
RSS
NYC Events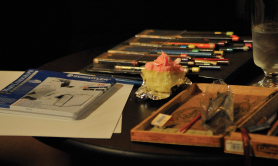 Art Tumblr
Alvin Black III
Frosty's going to melt…at Jingle Belle, Dr Sketchy Chicago Branch
Model: Rhonda Vous

my work on facebook: https://www.facebook.com/AlvinthethirdPainting
http://drsketchy.tumblr.com/post/70620589200