Branch Blog - Minneapolis, MN
Wed, November 03, 2010 • October Session with Tila Von Twirl!
Whoo-hoo! Thanks to all that came out to our last session on October 24th featuring Tila Von Twirl from Chicago. Since Tila did her Mary Jane act we decided focus some contests around........Pot. Equally as ridiculous in another contest titled This Moment in History we also celebrated the birth of Dennis Anderson (the creator of Monster Truck "Grave Digger"). Praise be the gifts Mr. Anderson has brought to HUMANKIND! Needless to say the incorporations of Tila like or as a Monster Truck were delightful. See you next month!
RSS
NYC Events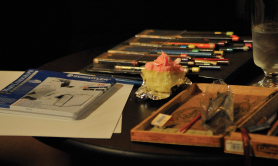 Art Tumblr