Branch Blog - New York, NY
Mon, November 01, 2010 • Oh! dalisque
Greetings, Art Monkeys!
For those of you who don't recognize the above painting, it is called "La Grande Odalisque," it was painted by Jean Auguste Dominique Ingres, and it was the inspiration for the costumes of our latest session of Dr. Sketchy's Anti-Art School. You may be thinking, "But she isn't wearing any costume! In fact, she isn't wearing anything at all!" Precisely! Following this example, our lovely models Rogizoid and Madame Rosebud posed wearing as little as this odalisque. Justin Lussier documented the whole thing with photographs.
This is more or less what Ingres' painting looked like from the other side.
The odalisques' slender proportions bespeak Ingres' Mannerist influences. Also - hubba hubba!
Here we see some art monkeys gathered around a hookah, which is like the art monkey equivalent of the water cooler at work.
Neckties add a touch of class, regardless of whether you're wearing anything else. In fact, especially if you're wearing nothing else.
Rogizoid and Rosebud choose the same moment to cop a feel.
Molly Crabapple was at the session, looking glorious, as always.
Rogizoid has some very nice tattoos. Sometimes even other models are distracted by them.
Those boots were made for walking, and they are clearly not being used for their intended purpose.
BOO! Don't be frightened, it's only our friend Foley hiding in the bushes.
Here he is holding a robot from our friends at Squishable.
And here he is behind the vodka provided by our friends at Boyd and Blair. What can I say? We have a lot of friends.
I call this pose "Rosebud + Rogizoid: B.F.F."
Madame Rosebud can't stay. The world needs her.
As you can see, the Collection House where this session took place would be a great place to set a horror movie.
In karate, this is known as the neko dachi, or cat stance. For those of you who didn't know I studied karate, now you do.
In Shen-Kuei, this is called the butterfly stance, Shen-Kuei being a fictional form of martial arts I just made up that consists primarily of sitting in a comfy chair and going to sleep.
This is what you would see if you were in a helicopter flying over Fred.
Rogizoid contemplates whether those oysters had gone bad.
Rogizoid's eyes seem to follow you wherever you go. Seriously, I just went to the kitchen to get a drink and they were still on me.
Through the looking glass, we see the opposite of how we're used to seeing Tim.
This pose couldn't be any cuter if the models were both made of kittens.
And those are all the photos I have for this session. Thank you to Molly, Melissa, Foley, Justin, Tim, Yao, and Dolcy. Until next time.
- Syd Bernstein
RSS
NYC Events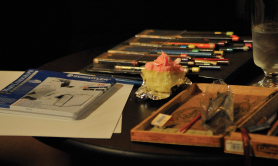 Art Tumblr
Dr Sketchy LA 12-3-13
http://drsketchy.tumblr.com/post/69027079376