Branch Blog - New York, NY
Tue, November 07, 2006 • Once Upon a Time in Brooklyn
In honor of the release of "Volver" and our neighbor "Love Shines", Dr. Sketchy's went south of the border this weekend with the spicy Lady J.
Hat provided by Syd Bernstein. Photo by Ryan ROman. Unbearable sexiness by Lady J. I put this hat on her in "honor of her hertiage" to which Molly turned around and said "actually she's Greek." Bah, you swarthy meditarrian types are all the same! With your olive oil and cockfighting! Give me boiled cabbage and harsh Prodestant work ethics any day.
Dr. Sketchy's got written up in oh, about a billion media soucres recently, so attendance was at Fire-Code violating levels. Remember little Art Monkeys, we start at 3pm and it's usually empty then. Arrive early and avoid the horrifying crush!
Enough complaining. Lets all look at Lady J for a while, shall we?
Bang Bang, she shot me down.
And of course…contests. Prizes from Molly's bookshelf and neighborhoodies.

The contest? Best incorperation of a Tequelia worm. The prize? Tequelia.
There are two types of people in the world. People who can drink tequelia and people who can never heard that word ever again. Our winner was of the former and abdicated his prize to the 2nd place winner. Either way, someone's getting smashed, Dr. Sketchy style!
Why, what's that? Is it the Official Dr. Sketchy Rainy-Day Colouring Book? 200 pages of mayhem, paper dolls and bad ideas? Why yes it is. And it is now available at drsketchy.com/mexico. Buy it or suffer terrible, haunting consequences.
And so it is time again to put away the spangles and the feathers for another week. Thanks again to the Lucky Cat, Ryan Roman, Steve Walker, Syd Berstein, Lady J and the rampaging horde of screaming monkeys we call a fanbase. Check us next time when fetish model Aprella scall discipline us.
RSS
NYC Events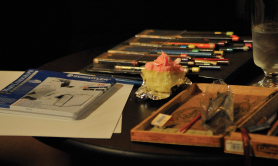 Art Tumblr
Dr Sketchy's LA 12/3/13 (pt. 1)
artofach.blogspot.com
http://drsketchy.tumblr.com/post/69132640329