Branch Blog - Chicago, IL
Sat, February 23, 2013 • Ooh-la-la! Je t'aime, Je t'adore was tres bien!
Love was dripping all over Dr. Sketchy's Chicago on February 17th, and we were glad you were there to sop it all up!
Frenchie Kiss and Jett Adore were the bee's knees and the cat's meow as they modeled for us, and I must say I have never seen any models put as much care and thought into their posing as these two. It was fantastic and we MUST have them back again!

Big thanks to Baby Tattoo Books for sponsoring our big prize! Their books are fabulous!

Enjoy these snapshots to hold you over until April 14th when we present "Comic Strip!" with Stella Cheeks!
RSS
NYC Events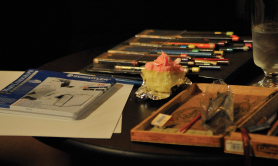 Art Tumblr
Sister Mary Willow
Dr Sketchy's Auckland 03/12/13
http://nomadshotline.tumblr.com/
http://drsketchy.tumblr.com/post/68974877262