Branch Blog - New York, NY
Wed, January 16, 2013 • Operation Ivy
Greetings, Art Combatants!
Do you ever wish that your favourite video game characters were real people you could play with? What are you, 8? Seriously, you're lucky that this session just featured Stella Chuu dressed as Ivy Valentine (of the Soulcalibur franchise), because if Ivy were real and she knew what you wanted to do with her, she would kill you. Kate Black took photographs.
Speaking of Ms. Chuu, do you know who my favourite character from A Streetcar Named Desire is? "Elaine! ELAINE!" Oh, wait, that was The Graduate. Still, The Graduate sure was a great movie.
For those of you unfamiliar with the character, I should explain that Ivy is a British noblewoman who lost her soul in a fight with her father and has to use a prosthetic soul. That plot element really strains the prosthetic suspension of disbelief that I usually use.
In the backstage shots, we see that her white coiffure is not her natural hair. It is merely a wig that she wears over her natural wig cap.
Those spikes on her fingers are useful for when Ivy forgets she has a damn sword.
We had quite a turn-out to this session, representing those whose interests include the arts and beating the shit out of virtual people.
Here we see the audience unlocking the One-Line Drawing achievement.
Art from the session included some traditional media as well as the fancy computer-generated imaging that Soulcalibur is known for.
The Soulcalibur series originated in Japan, where it is customary to remove one's boots before doing a striptease.
It's a good thing she's wearing that coat. Otherwise, she might be cold.
For our second contest, we asked our audience to imagine some mundane activities from Ivy's everyday life, like laundry
Our winner was chosen based only on his rendition of Ivy getting her vacuum repaired, but when we saw his kickass Boston t-shirt, we knew we had given the Squishable to the right man.
Ivy and the Snake Sword sure have some fun together. Oh yeah, I should probably mention that the sword is alive and it has its own soul, because why not?
This yoga position is called "The Tortoise Who Is About to Cut You Up With Her Chain Whip."
For the Drinking Contest, we had the audience draw Ivy facing off against some other famous British characters. I think this one is Dr. Who.
It is a travesty that this one didn't win, an abso-bloody-lute travesty.
The denizens of the Hundred Acre Woods didn't really stand much of a chance.
Of COURSE this tasteful depiction of Prince Harry won.
The winners had their drinks and then Stella had hers.
Some of you may say that this is not a safe way to handle a sword, but I'm sure most of you don't care.
Apparently, Foley knew the BEST CHEAT CODE EVER!
I love how pleased Foley looks with his little stuffed alpaca.
I was going to comment on this pose, but it looks like Stella already did it for me:
Well said, Stella.
Thank you to Melissa, Foley, Kate, and Yao
- Syd Bernstein
RSS
NYC Events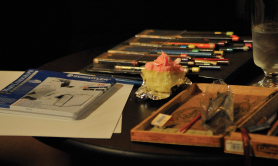 Art Tumblr
Dr Sketchy's LA 12/3/13 (pt. 1)
artofach.blogspot.com
http://drsketchy.tumblr.com/post/69132640329