Branch Blog - New York, NY
Thu, June 02, 2011 • Orientation
Ni-hao, Art Monkeys!
As a sophisticated cosmopolite, I have a deep respect for all lands in this world and feel at home among all of their bizarre, stupid, and nonsensical cultures. As a pedant, I love forms of entertainment that make me seem smart for appreciating them, by virtue of most people hating them, of which opera is the undisputed king. So it was only natural that I was excited when I found out that Dr. Sketchy's was doing a session based on the Peking Opera and positively elated when I was told that the models would be the always delightful Dame CuchiFrita and the voluptuous Calamity Chang. Hosting this session, I learned so many little-known facts about China. For instance:
The food that you eat in Chinese restaurants is not actually from China. The people who serve it often are, but it is considered poor etiquette to eat them unless you are in a committed relationship.
I will be interspersing these facts amongst Justin Lussier's photos from the event. So join me, won't you, as I explore the mysteries of the Far East, or as its known in Japan, the Old West. Let's get those wagons in a circle, Pilgrim! Yeeha!
Here is Calamity Chang, our tragic heroine.
Peking Opera is distinguished from its European couterpart by its use of elaborate makeup, flamboyant costumes, and hot asian chicks.
Dame CuchiFrita is wearing a "ronkou," or false beard.
Beards are traditional in Peking Opera, and it is a tradition that is often observed even today by people who are into the performing arts.
Our first contest was The Left-Handed Drawing Contest, or, as they say on Google Translate, 左手繪畫比賽 (Zuoshou huihua bisai).
My elementary school teachers lied to me about what sound an "x" makes.
Baby Tattoo is awesome. You should totally buy this book.
Dame's dance of the beard removal symbolizes shedding notions of male heteronormativity to allow sexual freedom. Her removal of her top signifies that the audience should pay attention to her breasts.
If we don't start paying them back soon, Chinese thugs are going to break the kneecaps of every American citizen.
Calamity, I'm you're biggest fan!
In China, a man's wisdom and virility are judged by the frequency of his puns.
The theme of our second contest was Richard Nixon, because as we all know, Richard Nixon opened trade between the United States and China. For those of you who didn't know:
Richard Nixon opened trade between the United States and China.
I am not sure if Richard Nixon is just walking by or if she is giving birth to him.
Richard Nixon's head should not be in anyone's crotch.
V is for victory.
The people of Cambodia are not amused by this contest.
This is Nixon getting groin stomped.
Nixon is into some kinky shit.
If you start hallucinating Richard Nixon, I think you got some bad opium.
Do not buy "China Cat" from Roy Harper.
Dame only uses this pipe for legal activities, I'm sure.
In Singapore, there are severe penalties for claiming that Singapore is in China.
A long pony tail or "queue" was compulsory for men during the Qing dynasty. For this reason, the Han Chinese were often considered hippies and were frequently told to get a job.
For the drinking contest, our theme was for our audience to draw the most Chinese drawings they could.
Foley said there's nothing more Chinese than cat with noodles.
Foley said that, not me.
This drawing reflects the influence of Chinese Buddhism.
Buddha is absolutely Chinese.
A traditional Chinese meal.
The Chinese eating implements called "chopsticks" are known for being difficult to eat with, but easy to play on piano.
A transformation of the model into a panda.
Everyone loves panadas.
A political cartoon.
What most people don't know about the "one child" policy is that the one child is much larger than the billions of other people in China, and the country most likely couldn't support another.
And our winners enjoy their prize.
Liquor is great no matter what country you're from.
And that is it for the pictures. Thank you to Melissa, Foley, Yao, Dennis, Justin, and Dolcy.
However you say "Goodbye" in Chinese!
- Syd Bernstein
RSS
NYC Events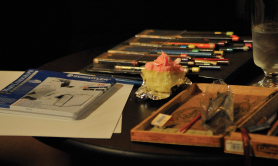 Art Tumblr
Dr Sketchy's LA 12/3/13 (pt. 1)
artofach.blogspot.com
http://drsketchy.tumblr.com/post/69132640329