Branch Blog - Baltimore, MD
Fri, May 06, 2011 • Paigey at Dr. Sketchy's Baltimore!
I think the first time I really became aware of the Charm City Roller Girls was when I spotted this poster in the window of some bar or another I was irresponsibly drinking in.  Tell me that isn't some of the best poster/flyer work you've ever seen in your life.  I seem to recall saying something like, "One, what's roller derby?  That looks bad-ass . . . and two, wow, who the hell drew that?  I think my inner artist just got struck sober." Well, the Baltimore-bred, Brooklyn-based illustrator Paige Pumphrey, a.k.a.
Paigey
, drew that. I'm pretty sure Alexis responded, "You don't know who Paigey is, and you don't know what roller derby is?  My God, I'm dating and running Dr. Sketchy's with an idiot." After a brief jager-fueled period of crying and a lot of  "No, honey, you're not really an idiot" and "Yes, honey, I know your childhood dog died when you were five but I don't understand what that has to do with anything right now", I . . . well, I probably passed out.  It's a little blurry.
That was a few years ago.  Since then, we met Paigey at the Baltimore Comic Con,  where we bought a print of that poster to hang in our apartment and found out that she's a regular at the Dr. Sketchy's in NYC. Then a year later, at her art opening at Saints and Sinners here in Baltimore, we talked to her about having an Art Star session of Dr. Sketchy's featuring her work.
And now, we're finally having that session! Paigey will be modeling for you, her fellow artists, this Monday night at the Windup Space. As always, doors open at 6 and drawing starts at 7---and seriously, show up early to get a good seat. We'll have crazy drawing contests with prizes from Atomic Books, Artist & Craftsman Supply, and Baby Tattoo Books.
$8 at the door, and you must be 18+ to attend, and 21+ to drink. No photography or paints, please. Visit
the official Facebook event page
to let us know you're joining us, and you can use it to invite your friends, too. So, check out her
art blog
and an interview with Girls Drawing Girls
here
for inspiration, and join us at the Windup Space on Monday. Let's round this out with one more amazing piece by Paigey.
RSS
NYC Events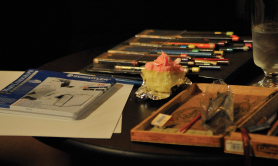 Art Tumblr
https://vimeo.com/81362468