Branch Blog - New York, NY
Mon, March 02, 2009 • Post-Modern English
Shortly after writing the last post, I noticed something was wrong. Something was missing. It struck me all at once: There were no cow puns! "Beef"fore too long, I decided I had to "cow"rrect this mis"steak" with the help of the photography of our own Justin "Moo"ssier.
The a"moo"nt of "heiffer"t that went into making the "cow"stume was in"cow"cula"bull." It was time well spent, though - every "moo"nute. She looks "udder"ly di"bovine."
These pictures are incredi"bull." Also, un"bull"ieva"bull."
John Leavitt, "cow"hosting the show. He'll never "steer" you wrong. That's no "bull"ogna.
I'm impressed by how long our "moo"dels can stand still without be"cow"ming "cattle"tonic. After the show, I bet she went home to watch "Graze" Anatomy.
I am "moo"ved by this "cow"lourful piece that is striking without being overly "oxen"tacious.
Do you know what Cathy's favourite Sean Penn "moo"vie is? Fast Times at Ridge"moo"nt High, but a close second is "Milk."
Well, I think that's enough for now. Thanks to Justin Lussier for the pictures and to Molly Crabapple and John Leavitt for letting me get away with this.
-----
RSS
NYC Events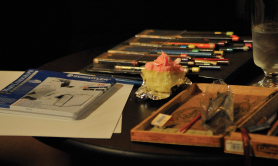 Art Tumblr
Dr Sketchy's LA 12/3/13 (pt. 1)
artofach.blogspot.com
http://drsketchy.tumblr.com/post/69132640329