Branch Blog - New York, NY
Thu, October 25, 2007 • Prom Theme
Wow! it feels like just 4 weeks ago we were celebrating back to school and now it's time for Senior Prom! C'mon, lets relive more awkward childhood memories! Does my hair look alright? How about the tux? Got it from my uncle, he says you can't see in the stains in the dark anyway!
Your hosts for this, the happiest night of your life, Molly Crabapple, John Leavitt, and a metric ton of candy-colored balloons. I look like the head of the drama club who goes on to murder prostitutes. *sigh*.
And our lovely models, Apathy and Amelia Danger as Prom Princess and Rebel Without a Cause!
Photos by A.V geeks, Ryan Roman and Dr. Simon.
Enough glitter to block out the sun!
Apparently we're just dramatizing "The Breakfast Club" slashfics now.
Our crowd is a resourceful crowd.
Our crowd is a handsome crowd.
Our crowd is a busy crowd!
And thanks to Adam, our crowd is a drunken crowd! It wouldn't be Prom Night without ill-gotten hooch, so since it was my Birthday we passed out shots.

Art Monkeys at previous birthday sessions may know why I have a look of dread on my face…
Oh Steve, you tore my heart and suit pants in two.
And, of course we had contests designed to bring back shameful, shameful memories.
Best incorperation of a scene from "Carrie". Everyone did the big ending, only one person did the mother's scene. You know who you are.
<
img src="http://www.drsketchy.com/prom/promprizes.jpg" mce_src="http://www.drsketchy.com/prom/promprizes.jpg" />

Just be happy that, for the sake of your sanity, Amanda's picture is blurry. That girl ain't right.
The winners! But really, aren't we all?
Our Prom King and Queen! Well, Syd and Queen, dancing with the models to "Wild Horses" because we're such huge dorks. I'm not sure if dancing with Syd was a reward or a punishment.
Speaking of being huge dorks, we also had a contest where you had to draw what you actually did on Prom Night (besides try to kill Jamie Lee Curtis).
A distrubing number of you sat around inhaling illict substances …and then riding a magical dinosaur. Former begets the latter, of course.
But alas, it cannot always end well …a brutal fight broke out over the bouquet.
And it wouldn't be prom night without someone leaving a little surprise in the girl's bathroom. Oh well, it's not all fun and games …until you get to college, that is.
Thanks to Apathy and Amelia Danger for putting 16 candles of awesome on my birthday cupcake of joy! Thanks to Dr. Simon, Ryan Roman, Steve Walker, Eve, Syd Bernstein, The Lucky Cat and all you huge dorks out there. Afterparty at my place, whooooo!
-JL
-----
RSS
NYC Events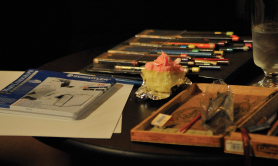 Art Tumblr
https://vimeo.com/81362468