Branch Blog - Providence, RI
Sun, May 06, 2012 • ProvSketchy goes to the circus
Step right up ladies and gents! In honor of the greatest show on earth, the greatest alt. life drawing session in RI is going to the CIRCUS! We can't promise lions tigers and bears but our model Miss Mischief is definitly just as fierce! Shes sexy, vivatious, tatooed and ready to strike astonishing poses for your amazement.
Where life drawing meets burlesque. Whether your good, bad, in need some practice or just starting out to try something new, any and all skill levels are welcome. With games to play, and prizes to give away your sure to have a great time!

Quick poses to begin with to get you started then gradually getting longer, with less and less clothes.
http://​www.iammischief.com/
http://www.facebook.com/events/307543682656275/
$8 at the door
18+
RSS
NYC Events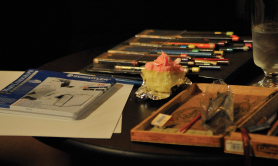 Art Tumblr
Dr Sketchy's LA 12/3/13 (pt. 1)
artofach.blogspot.com
http://drsketchy.tumblr.com/post/69132640329