Branch Blog - Providence, RI
Wed, December 12, 2012 • ProvSketchy's Holiday Hoopla!
Its that time again where the cold comes knocking on your door. What better way to warm up your night then drawing one steaming hot beauty Niki Luparelli, like a cup of hot cocoa she will warm you to the core. This Sexy Singing Hula Hooper Multi-tasking bomb shell will be gracing us with her presence.
Join us Wednesday December 12 from 6:30-9:00 PM at the Spot Underground
Where life drawing meets burlesque. Whether your good, bad, in need some practice or just starting out to try something new, any and a
ll skill levels are welcome. With games to play, and prizes to give away your
sure to have a great time!
Quick poses to begin with to get you started then gradually getting longer, with less and less clothes.
http://www.facebook.com/provsketchy
$8 at the door
18+
RSS
NYC Events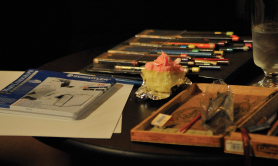 Art Tumblr
https://vimeo.com/81362468