Branch Blog - New York, NY
Fri, June 14, 2013 • Pulp Fiction Predilection
Evening, Ladies and Gentlemen. Nice day for a murder...or a seduction as the case may be.
We at Sketchy's are about to take you back to a simpler time: When men poured scotch into highball glasses and women spilled out of little black dresses. So we've teamed up with Femme Fatale, Amber Ray, and her personal private dick, GoGo Harder, to bring you to a time of dreamy gals and boozy business men, back alleys and bullet bras: and Dial D for Drinking, Drawing, and a Damn fine evening.
Here is an open case as it stands, with mystery and intrigue at every turn. We take a voyeuristic peek behind the curtains at two pigeons in their seedy love nest on the Lower East Side. There is more backstory than meets the eye, and we shall endeavor to uncover clues to beat the con at his (or her) own game.
I, Kat Mon Dieu, will be playing the role of super sleuth to this "whodunit" in progress. I poured myself a stiff little finger of cheap Scotch and have tapped my skills as a cat burgular to sashay along the rusty fire escape and peer into this very special boudoir.
Photos by passion crime paparazzi Kate Black (From the March 10th, 2013 session at the Slipper Room NYC).
Now for the evidence. Meet Seaman Harder.
And infamous good-time-girl Miss Ray, who he met on shore leave.
She was a delectably sweet black and white cookie from Brooklyn, and he was starvin' for a giant helping of what she had to offer.
Not one to waste a second on formalities during his precious shore leave, Mr Harder decided to ignore the gut feeling that he was in for the toothache of his life.
"Lucky Strike Means Fine Tobacco", and "I'd walk a mile for a Camel"...but what the hell...I'm about to walk down the block for a chance to have a strike at this fine damsel.
"Don't mind if I do. Mr Harder".
Come up to my place big boy...I got something I wanna show you.
You can see the Statue of Liberty from my bedroom window...
I got a statue of liberty for you, Cookie. Just keep those eyes closed 'till I tell ya to open them...
Oh Sailor! I don't know what's come over me! I feel so flush...I must disrobe, 'ere I swoon and be at your mercy! Here, help me remove my glove as I rip my own dress off.
I cannot let a classy dame such as you rip your own dress off...here, let me help.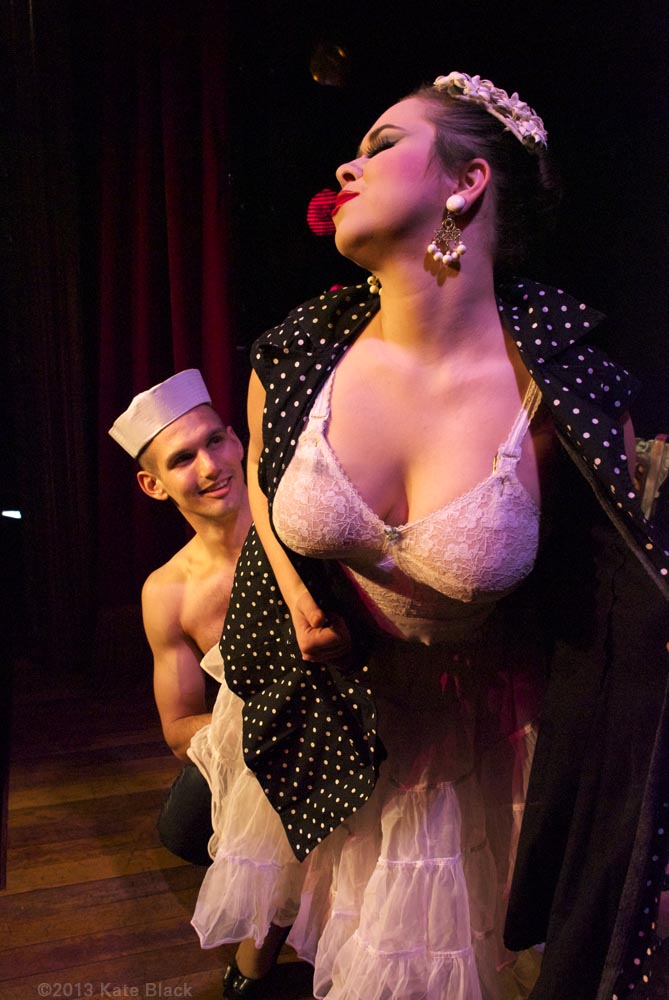 What are you doing back there sailor? Looking for the Maltese Falcon?
Touch my nipple ring and I'll spank you.
You're cruisin' for a bruisin' young lady!
Even though she liked her spanking. she decided she would shoot him with her bullet bra to even the score...
Ha! Ya MISSED!
But I'm starting to believe the guys were playing a trick on me when they told me this shiny metallic one-piece sailor suit is standard shore leave issue...help me get it past my tighty-whities will ya, Cookie?
Whatcha gonna give me in return, Seaman Harder?
"Foot worship?"
"Yeah? What else?"
"I'll put my shiny metallic sailor suit back on and dance around for you..."
"Now you're talkin'!"
With a bit of Dutch Courage...
GO GoGo! It's your birthday! GO GoGo! It's your birthday! GO GoGo! It's your birthday! GO GoGo! It's your birthday!
The room abounds with investigators...witness to this moment of ungovernable passions.
A story must be chosen to present to the court. So many perspectives...so many private dicks...our protagonists sit upon the tribunal bench and await a verdict. Will they be wrongly accused of licentious behavior on shore leave, or will they be able to bribe the court with a Squishable?
It is decided that further investigation (and disrobement) is required by law in order to reach a fair vertict.
Our culprits are more than happy to oblige...I say, I think she found the Maltese Falcon.
Crime Solved.
And Seaman Harder has finally been relieved of his shiny metallic shore-leave sailor suit.
Salute!
Meanwhile on the floor below, a snoopy gumshoe who happens to be Seaman Harder's long lost twin brother, is calling the papers to give them the scoop on a deadly dame in who's apartment he found evidence of a plot to black mail Mayor LaGuardia...photos of the illustrious politician in a compromising situation with a Showgirl by the name of Cutlass Supreme. Not good for the mayor. Something to do with ladyfingers and spaghetti. Don't ask.
I don't think that dame has the look of love in her eyes; more like the look of "you're number's up, gummy boy".
She hesitates...it's too nice a suit to get blood on...
And NOW for a commercial break from our sponsors: Squishables and BabyTattoo! What will the verdict be?
The ANVIL did it! (It just happened to slip out of her grasp as she was holding it above his head...)
Wait...I think we missed an episode! Now the newshound is about to murder LaGuardia's blackmailing Femme Fatale! Oh the irony!
Will she escape this treacherous fate at the eleventh hour...or will she become another Jane Doe on a slab downtown?
She is smiling...Could what appears to be a mirror actually be a high tech government instrument of communication?
Who's this? Why does she look like Cookie and the Blackmailing Broad? It can only mean one thing...yes...they're Triplets! How was the reporter to know? Amber Hari, to the rescue.
Nevertheless, Detective Harder came prepared for anything. Equipped with the latest spy technology planted in his handkerchief, he has recorded everyone's confessions and already transmitted them to headquarters, including the sexy banter between his twin brother and the kid sister of the broad's who tried to off him. It's complicated, but the Art Monkeys see through the ruse...
Here is the evidence so far:
Exhibit #1
(missing in evidence)
Exhibit #2 ~ "The Bear with a Chainsaw did it" Theory.
Exhibit #3 The "No-one suspects the Cat" Theory. (Hey! Now wait a minute! I resemble that remark!)
Cat on a leash...AS IF! Pffffft! And now for the detective drinking game, sponsored by Baby Tattoo.
Hey we thought prohibition was over...what is with the rotgut hooch?
Nevermind...this case is not closed yet! Mata Ray and Amber Hari are again in control and have the Private Dick by the short hairs...boy is he in for a world of pain.
She is quite enjoying this...wait...I think he is too! Carry on you crazy kids...
"I think I hear the coppers...I gotta make myself scarce!" gasps Mata Amber Hari.
"Don't worry Kid...I won't let them get you...but ya better scram before I change my mind", grunts Detective Harder as he prepares to defend the triplets and his long lost twin brother.
And so we are left with another unsolved Lower East Side Whodunit to become cold cases in the annals of NYC crime history and confound future generations anon.
Who were the good guys? Were the triplets working in cahoots? Did Private Dick Harder know his brother was on shore leave and if so would he have met him at the ship and taken him to a respectable cat house, averting their involvement in the LaGuardia Intrigues. And where was Cutlass Supreme during all of this. Was she still cleaning up spaghetti? And my biggest question to you...where the hell is the Maltese Falcon?
Thank you Melissa, Syd and Kate, along with Amber Ray and GoGo Harder for an intense session to remember for a very...long...time.
RSS
NYC Events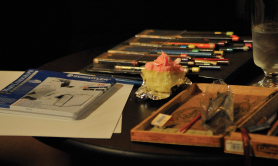 Art Tumblr