Branch Blog - New York, NY
Tue, April 23, 2013 • The Puppet Masters
Well Howdy Doody, All You Real Boys and Girls!
Kat Mon Dieu here! I'm your friendly, neighborhood Burly-Blogger. Do you know what time it is? It's Scooter-Stu on Stilts Time! Or if you are really craving something sweet, Creamed-Pie in the Sky! I just get hungry whenever I hear their names and to have them both in a Dr Sketchy's session...Well! I can only say...I hope you had something to eat before you feast your eyes on this full course meal of the senses with our beautiful poupée Scooter Pie and her debonaire maître de marionnettistes Creamed Stu! Because if you desire a taste, you will need a ladder! (from Dr Sketchy's January 13, 2013 Session @ The Slipper Room) Photos by Kate Black.
I think I see jiminy Cricket's Umbrella! Where is that little bug?
Do not fear! Monsieur Stu will never let his little puppet fall! He has a handle on the situation and his two feet planted firmly in the stirrups of illusion! This we all know is the safest place to stand...
...and if perchance they tumble, there are plenty who support this illusion who will catch them.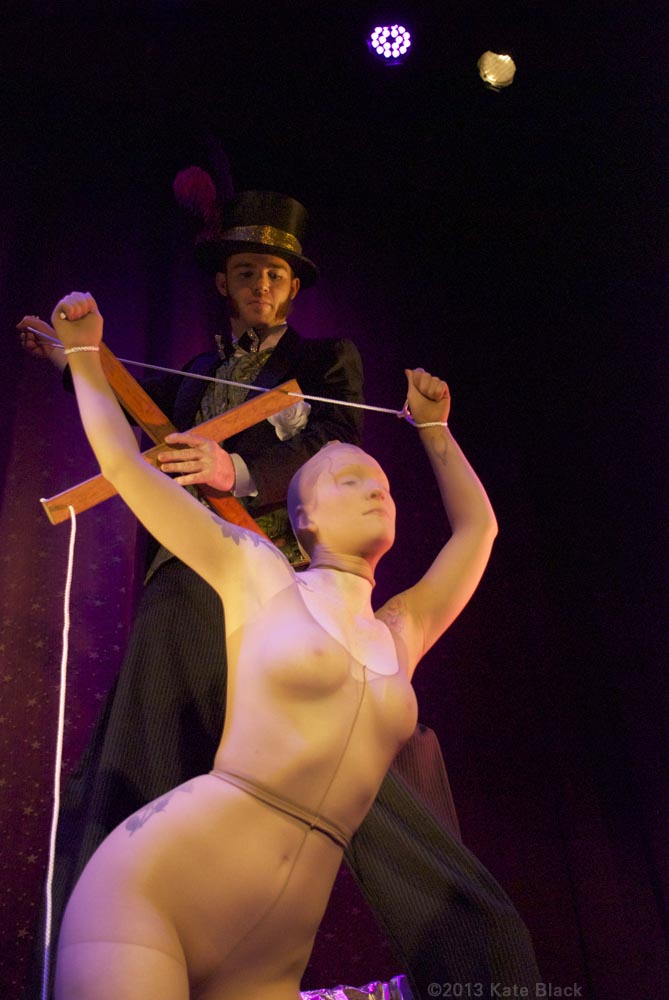 Such a romantically beautiful evening...I see the moon and the stars above our pretty lovers. Will they ever be together? Will this vertically endowed Pygmalion whip his blank canvas Galatea to life with whistful desire? Where's that Blue Fairy when you need her?
Sparks of life...Dance little Poupee! Dance!
Yes, Art Monkey...you can believe your eyes! She is a real girl underneath all those pantyhose. Have another drink.
This brave artful soul has won a Squishable with her vision of our tasty models! Melissa holds the winning illustration wearing a darling ensemble that I plan to borrow from her one of these days.
She is beginning to glow! I think the love magic is working...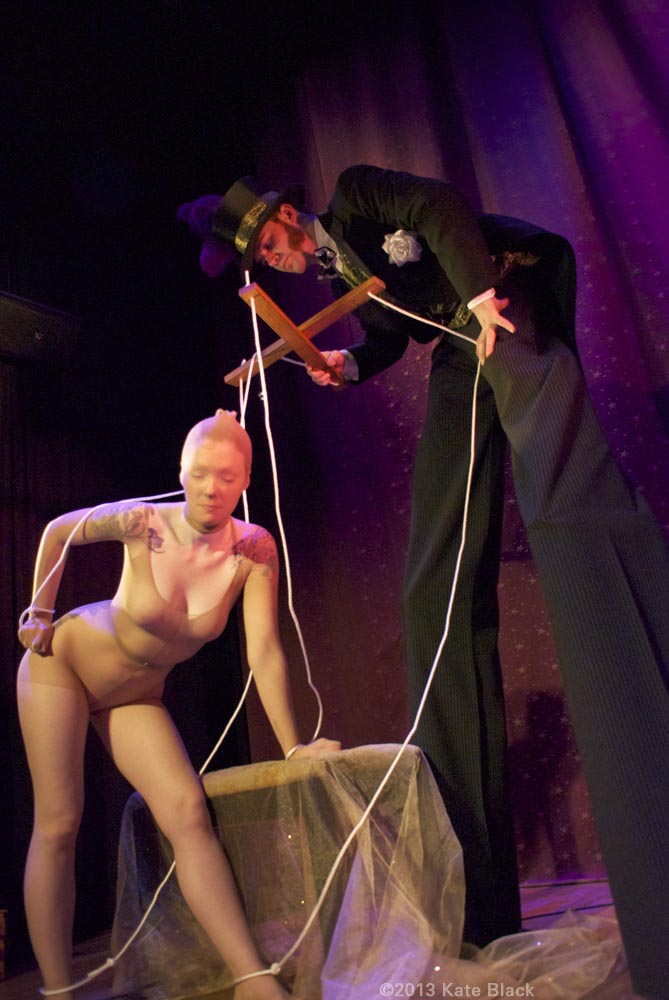 Tell me...do you believe?
Do you?
Or you?
I know you do! You're vibrating!
"Hey! Quiet in the Peanut Gallery!"
...and now, for the magic words..."Flub-Ba-Dub-Ba-Dub"!
...et, Voila! She's ALIVE! And she has beautiful Tattoos!
"Mon Dieu...what have I done?"
...the tableaux has turned! Give this believer a Squishable!
Lucky Art Monkey!
You will be happy to know that the Maitre and the Poupee continue to have a mutually beneficial and symbiotic relationship, bordering on (but not crossing over into) codependant territory. Occasionally they switch roles to keep the magic alive. (Do not talk of sparks and fire around her...she's very sensitive)
What have we here? Have these two been to Pleasure Island?
Zut Alors! Don't fall asleep! It is time for the drinking game! With a highly desired prize from our sponsor, Baby Tattoo! Lampwick is taking bets.
"What are you thinking?"
"I don't know. What are you thinking?"
"I asked you first..."
"...I asked you second..."
"...guess..."
"...your pantyhose are killing you?"
"Right on, Brother...you know me so well."
Let's blow this popsicle stand and get a drink!
Thank you Melissa, Kate, Syd, Keith, Scooter, Stu and all the Dr Sketchy's Posse for another delightful session! Until next time mes amis! Avec affection et bisous! Kat Mon Dieu "The Gal with Nine Lives and a Thousand Disguises"!
Tune in again soon for more updates; including sessions with Apathy Angel, Amber Ray and the Incredible Edible Akynos!
RSS
NYC Events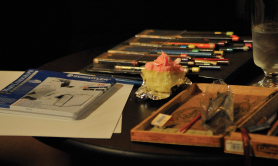 Art Tumblr