Branch Blog - New York, NY
Sat, November 17, 2007 • Queens Of the Stone Age
Ook and ork my prehistoric friends! Dr. Sketchy's takes you back to 1,000,000 B.C! Clan of the Cave Sketchy's! Sure, the stone tools areimpressive, but why not just research Mysticism and Mining to get to the Bronze Age before the bastard Sumerians?
Our cave cutie was no other than Little Brooklyn of Starshine Burlesque and her amorous ape! So THAT'S what happened to Fay Wray!
Hosted by your modern stone-age family, Molly Crabapple and John Leavitt! here molly presents a prize print of her work "cockfighting." It's
exactly what you think it is. *shudder*.
Photos by Dr. Simon, who feels he's above all this childishness.
Oh you big Gorllia, you drive me ape!
Jane Goddal: The True Story!
And of course we had art! And contests! Both at the same time! Here was "Best incorporation of a Creationist Argument." Many did tempting
serpents, but one came out with a "Blessing of the Velcoiraptors." It's like we're doing Jack Chick's work for him!
While the gates of Hades are guarded by a three-headed hell-hound, the gates of Purgatory are only somewhat manned by a sassy two-headed Woman-Ape.
No, really.
Hey! I'm wearing a Dresdencodak.com t-shirt! maybe you can visit dresdencodak.com and buy his shirts at dresdencodak.com.
Ahem. Moving on.
We even had a large "Cave Wall" in which to doodle your own pornographic scribbles to amaze and confound future archaeologists!
One of our "special" prizes, a grape lollypop with a grub inside. Tequila candy!
And lo, with the creation of tools and farming, the Stone age must come to an end. Thanks to Syd Bernstein and Eve Bulter, Dr. Simon,
Little Brooklyn of StarShine Burlesque and you! yes you! You're the most important one of all.
Come back next time for freaky pop-surrealism by Amber Ray and Muffin Head!
-JL
-----
RSS
NYC Events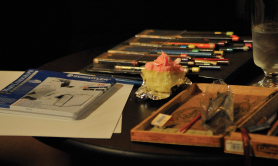 Art Tumblr
Dr Sketchy's LA 12/3/13 (pt. 1)
artofach.blogspot.com
http://drsketchy.tumblr.com/post/69132640329