Branch Blog - New York, NY
Fri, March 26, 2010 • Raquel's Holiday Camp
Good day, Art Monkeys!
Recently, we had a very special session at the Roger Smith Hotel for the Social Media Art Camp (or SMArt Camp - you see, it's almost an acronym, except that the last letter is the whole word, but look! It spells "smart"!) Raquel Reed was the model and it was fancy and colourful and awesome and photographer Chloe Rice caught it all on film.
Here we see Zoe setting up a live Internet feed so that anyone not at the hotel could still watch the session. This session was all sorts of high-tech.
There were projectors all over the place, so you could see what was going on no matter where you looked.
Padman provided huge, fancy audio-visual equipment, making us feel almost as if we were real people.
The Sketchy crew patiently awaited the audience's arrival, thinking sexy thoughts.
Finally, the posing began and our eyes were filled with the colours and curves of the famous Raquel Reed.
On the back wall, there was a live stream of the session in Pittsburgh that was going on at the same time. Their models dressed as Tank Girl and Wonder Woman, which is precisely why I wish I lived in Pittsburgh.
The multitudes of cameras covering every surface of the room provided a close-up - even intrusive - look at our artists at work.
The winner of our left-handed drawing competition was the woman who wrote "balls" in big letters on her drawing, proving that we are not above that sort of thing.
The lovely Beth sold raffle tickets for custom-made jewelry.
I seem to be the only one in this picture who noticed there was a camera pointed at us. Thus I ruined a perfectly good candid shot.
Our drinking contest was a tribute to our Pittsburghian neighbors, replete with Steelers and Penguins and Andy Warhol.
During our 20-minute break, we had cupcakes provided by Glittle. Words cannot express how amazing they were, but look at how much Raquel is enjoying hers.
Wait a minute… pictures… of video… This is blowing my mind!
And we are out of pictures. I leave you with this drawing that ties together our health care crisis with Raquel's ass in a way that I don't believe anyone has done before.
Thank you to the Roger Smith Hotel, SMArt Camp, Glittle, Baby Tattoo, Padman, Molly, Melissa, Zoe, Keith, Ruth, Beth, Dr. Sketchy's Pittsburgh, and art monkeys everywhere!
-----
RSS
NYC Events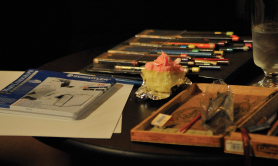 Art Tumblr
Dr Sketchy's LA 12/3/13 (pt. 1)
artofach.blogspot.com
http://drsketchy.tumblr.com/post/69132640329