Branch Blog - Aberdeen, UK
Thu, September 06, 2012 • Ready for Round 2
Hi Hi Hi there Art Monkeys and Doodlebugs!
Apologies for not being a particularly prolific blogger since our last event! But we're here now, and we'd like to tell you that our last event was fabulous and we're all giddy and excited about the next one!
So, for those of you who are a little sketchy with the details of what exactly goes down at our events, here's a little recap of Wham! Glam! Thank you, Ma'am!
The Performances
The first of our three performers for our audiences illustrative pleasure (see what I did there...?) was the magical Miss Magenta Lust. She gave us a rendition of her fabulously flamboyant Pink Panther act.
Next up we had the capers of the corrupt, curvy Kim Khaos and her High Treason balloon pop act.
And to finish out the evening there was the fabulous Faye Tality showing us the act known only as "The Tranny One". An act dreamt up specifically to be performed at a Trans Pride event and definitely one of my favourites!
Each of these lovely ladies performed their acts and then spent the best part of an hour posing for all our doodlebugs to draw them. There are some wonderful pictures of the art work (the good, the bad and the... abstract) on our facebook page but two lucky winners managed to snag FABULOUS STAR PRIZES for their efforts!
Fabulous Star Prizes
For Best Crayon drawing, our lucky winner brought home a copy of Rod Stewart's Foot Loose and Fancy Free LP! I KNOW, RIGHT?! Luckily for us, Anna was not only a great sport but also a Rod Stewart Fan!! Who'd have expected that??
And for the afternoon's best drawing we had the astoundingly modest Eloise and while we don't have a picture of her with her prize, we do have... ME!
The hilarious irony of the Paint By Numbers prize was driven home by the absolutely gobsmacking work Eloise produced to win:
Truth be told, I actually felt really mean for not having a sexier prize for her!
..aaaand that's about it really! Everyone had lots of fun, especially our shutterbug Daniel McAvoy who shall be returning for The Nude Avengers, too! If you're at all interested in photography I recommend you give some of his work a look because he really is marvellous and if you're at all intrigued by what you see, then please feel free to head along to our Nude Avengers event, September 30th.
Hope to see y'all there!
xx
RSS
NYC Events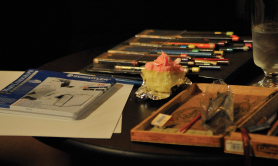 Art Tumblr
Dr Sketchy's LA 12/3/13 (pt. 1)
artofach.blogspot.com
http://drsketchy.tumblr.com/post/69132640329