Branch Blog - New York, NY
Thu, February 23, 2012 • Reduce, Reuse, Récamier
Bonsoir, mes amants.
I know what you're thinking - Why am I talking like Batroc the Leaper? It is in honour of our recent session where we paid tribute to Jeanne-Françoise Julie Adélaïde Bernard Récamier who, when lost and stranded in the Alps, could survive for weeks by living on her middle names. I know, I know - Something French? At Dr. Sketchy's? What are the odds? The next thing you know, we'll be making reference to Victorian England. This time, though, the theme suited the model - none other than author/seductress Arden Leigh (whose book The New Rules of Attraction is available now!). If there's anything that the French are known for, it's being masters of the art of seduction, none moreso than Mme. Récamier, which is why she's an inspiration to Miss Leigh. So, sit back, put on some Make the Girl Dance and prepare to surrender to Kate Black's photos of Arden Leigh as Juliette Récamier.
To remain in character as a Frenchwoman, Arden did not take breaks between poses. She just went on strike for five minutes at a time.
The reproductive organs of certain plants can be used to send a romantic message. The reproductive organs of animals send a slightly different message, but can still be seductive to the right lady.
Backstage, corsets were tightened, because you simply can't catch a man with a human sized waist.
Is there anything more seductive than a kitten notebook? I hope not, because that's pretty much all I have going for me.
For the ladies reading this who cannot afford Arden's book, I offer my own brief seduction strategy inspired by my years working for Dr. Sketchy:
1. Be hot.
2. Take off your clothes.
3. Repeat as needed.
It has been said that music is the food of love. Also, architecture is the liquor of ambivalence.
Our dapper and erudite audience.
There was so much art in this drawing that Yao had to help me hold it.
Corsets can be sexy, but so can being able to breathe.
We didn't actually have a récamier for her to recline on, but Arden is such a pro at reclining, you can hardly tell.
The seduction style of the Warner brothers from Animaniacs is one I often emulate.
A little something for the foot fetishists, and a few things for the everything else fetishists.
Arden herself judged the drinking contest.
Vive le alcool!
Thanks to Melissa, Foley, Kate, Yao, Keith, and Jawad
- Syd Bernstein
RSS
NYC Events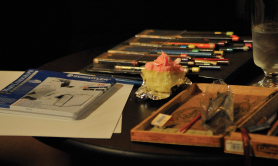 Art Tumblr
Dr Sketchy's LA 12/3/13 (pt. 1)
artofach.blogspot.com
http://drsketchy.tumblr.com/post/69132640329