Branch Blog - Baltimore, MD
Sun, June 12, 2011 • Roma Mafia, the Rapture, Butterflies, and Labyrinth.
Wow, the camera really likes Roma Mafia of Sticky Buns Burlesque.  Like, a lot.  The photos always look great, but this batch looks especially amazing.  Our photographer Jeff was in some sort of photographic zen-like zone and Roma was a CLEAR violation of Russell's "don't set fire to my stage" rule that he gets so strangely upset over.  (As a side note, Roma kicked ass Saturday night too along with Sticky Buns Burlesque and Gilded Lily Burlesque at the Planned Parenthood Benefit at Area 405.  Hope you went; you pretty much couldn't throw a rock without hitting someone who's modeled for Dr. Sketchy's before.  Don't throw rocks though.) Here's the 1 & 2-minute poses.
Artist & Craftsman Supply
down the street on the corner of Howard and North.
Rubber Duck
by Karen Hsiau from
Baby Tattoo Books
.
The last pose of the night was best incorporation of the movie Labyrinth.  (The previous weekend Alexis and I had visited the Raleigh,
NC branch of Dr. Sketchy's
, which hosted a special session at a Labyrinth-themed burlesque show.  It was pretty damn neat.)  The winners got their choice of either the latest issue of Retro Lovely or Hi Fructose and Bachelor Pad from
Atomic Books
on the corner of the Avenue and Falls in Hampden.
Thank you to Roma Mafia for a stunning session; thanks to our sponsors Atomic Books, Artist & Craftsman Supply, and Baby Tattoo Books; thanks to Russell for slinging drinks and tunes and letting us use the Windup Space; thanks to Jeff for working his camera magic; thanks to my beard for not harming any small children, and thanks of course to Alexis for MCing. So, when's the next Dr. Sketchy's? Oh, it's tomorrow.  Monday, June 13th. Anything special about it?  Not really, no big deal or nuthin', it's just
OUR FUCKING 3 YR ANNIVERSARY!
Marla "So Cute it Hurts" Meringue of Sticky Buns Burlesque will be modeling!  Boom!  [John Stewart fist-pump]  And what's that new logo up there?  Flying Dog Brewery?  There'll be Raging Bitch on tap, $4 for the first pint and $2 for every pint after that - which is like, INSANE, and not only that, they'll be giving other stuff away too!  Atomic Books, who's been with us almost the entire 3 years has a bunch of cool stuff, Artist & Craftsman Supply loaded us up with art supplies and Baby Tattoo Books stuff too!  And the stage is getting a makeover!  Boom!
If you think you're coming, for God's sake confirm on the Facebook event - doors will open at 6 with the start at 7.  Don't be late, this really, really is the big one.
RSS
NYC Events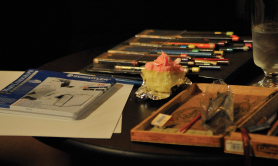 Art Tumblr
https://vimeo.com/81362468