Branch Blog - Anaheim, CA
Fri, November 23, 2012 • SATURDAY, DEC 1ST - NERDGASM ^2: ALL DAY DRAWING EVENT
It's almost time for the return of Nerdgasm to the Rothick Art Haus!
Our special all day figure drawing event is set and ready. Lauren WK, Holly Feather, Phoebe L'amour, and Stephanie Shaw each prepared custom cosplay outfits that they are excited to show off (and take off) for you art monkeys.
There will be short and long pose sessions throughout the day with a long pose painter friendly session outside after dark.
Register early to guarantee a spot. Registration is available at the door but will be limited to available space.
Date:
Saturday December 1st, 2012
11am to 10 pm
Cost:
$30 Pre-Pay (Now Closed)
$40 At Door
RSS
NYC Events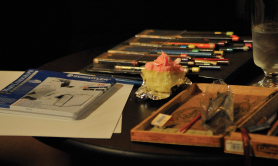 Art Tumblr