Branch Blog - New York, NY
Sun, October 14, 2007 • Scary Monsters …Super Freaks
Oh no! The Strange Rouges of Kaiju Big Battel have descended upon our city! They demand a true champion to battle or they will lay waste to all New York! Who can save us now?!
Look! it's a bird! It's a plane! It's Space Chief! No! it's Pandora! Burlesque cutie and Savior of All Mankind! Can she do battle with the monsters and save the city? Possibly!
Art Monkeys on hand to record the historical battle. The beer is just to steady the nerves, this is the fate of mankind we're talkin' bout here.
It's one of the Plantain Twins! Normally a hero, but he craves Brooklyn's sweet melons and hip style!
Curses! A Corset! Pandora! Use the super-charged sun-sphere spinning moon kick princess power!
Finish him!
Flawless victory!
oh no! It's a feral Vegetius, the cruelest of all bird-turtles!He has come to ravage the "flushing meadows" to be found in Queens! We are surely lost!
Pandora counters with the Feathered Boa Head Butt of Justice!
Attacking monsters or no, it's still Dr. Sketchy's Anti-Art School, so people won prizes.
And once again Molly looks adorable and I look sweaty and COMPLETELY UNHINGED.
Oh no! A baby Sky-Deviler! It no doubt has dark and sinister plans for Staten Island! Use all your strength Pandora! The hearts of children everywhere are with yoU!
Why it's the newest member of the Dr. Sketchy team, Eve! She looks like an anime character in this shot, which only helps matters.
Syd was replaced this session by the S-yd DoorBot 2000 Unit. Sadly, it could not stand up to the Kaiju's relentless assault. We shall avange you, DoorBot 2000!
Art Monkeys had to incorporate the fighting creatures into our mural Of The City, Behold it and despair!
So a flying Starbucks is raining money onto a Sentinel while a plantain below loves life.
Teamwork kills King Kong and wounds Godzilla's fragile ego. Poor Godzilla!
Pandora. Plantanos. They fight crime, on Wednesdays at 8.
The monsters defeated, everyone was a winner! Some people got booze, other people got shiny trinkets.
And now the Beasts of Kaiju Big Battel have fled! Check out http://www.Kaiju.com for more live-action, real monster brawls near you!
As for us at Dr. Sketchy's, we're just happy to have saved The City. Thanks to Pandora! The Lucky Cat! Steve! Syd! Eve! Dr. Simon! The Kaiju Crew and All Art Monkeys Everywhere.
Show up on the 27th for a Triubte to H.P Lovecraft. No Seriously.
-JL
-----
RSS
NYC Events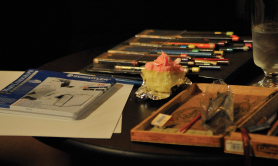 Art Tumblr
Dr Sketchy LA 12-3-13
http://drsketchy.tumblr.com/post/69027079376