Branch Blog - New York, NY
Tue, May 25, 2010 • Scharf Attack!
Hello, Art Monkeys!
You know what time it is - time for another entry in Dr. Sketchy's Anti-Art Blog, and we have an extra special one today - an Art Star session, in tribute to Kenny Scharf. For those of you unfamiliar with his work, it's sort of like this:
except with more colour. So amidst pop art psychedlia, we had Sequinette posing. Join us, won't you, for a wild ride of life drawing.
Sequinette is very mysterious and possibly also a vampire. She's certainly sparkly enough.
As any doctor will tell you, it is important to routinely check your breasts' flavour.
We had a reflective and religious pose for our left-handed drawing contest. I wonder what she's praying for…
Of course! She was praying for a cow from our good friends at Squishable. What more could a person want?
This is the international sign for "I'm choking," made famous by LeBron James. Hey-yo!
Despite taking her clothes off for an audience, Sequinette is very shy. The audience had to be careful not to scare her away.
For our second contest, I was inspired by the background to have our artists incorporate some sort of… mentally ill… feline… something like that. I'm not sure I can explain it, nor why I wanted to throw bricks at the entrants' drawings. I can explain, the pose, however, which was obviously inspired by Don Adams.
First, we have Depressed Kitty.
Then, Paranoid Kitty fears Sequinette is plotting against him.
Anxious Kitty doesn't know how to talk to Sequinette.
This is in reference to something that I should immediately recognize, but still haven't.
I am confused by this one. Is she depressed by the cat? Or having obsessive repetitive thoughts about the cat? Is there something wrong with the cat itself? What is this about?!
And finally, poor Delusional Kitty thinks it's a shoe that thinks it's a phone.
The winner received a bottle of Boyd & Blair vodka, our preferred method of dealing with any sort of emotional problems.
She looks a bit tired. Like many of Scharf's drawings, I bet the bright colours keep her awake at night.
Here, Molly, John, and Kenny hang out at the bar, like all of the cool kids.
Beth is customarily transported wherever she goes on the back of an able-bodied young man.
I call this pose, "The Tears of a Clownfish."
For the drinking contest, we went a little meta - a tribute within a tribute. That's right, inside our tribute to Kenny Scharf, we had an imbedded mini-tribute to Andy Warhol as a contest.
Here we have colourful soup, Sequinette as soup, and my personal favourite, soup flavoured soup.
Two people did Marilyn Monroe-like riffs.
And one person went obscure, with shoes and cats and cows.
And the winners drank their colourful drinks.
That's all the photos we have. Thank you to Kenny Scharf, as well as Molly, John, Justin, Foley, Melissa, Beth, Dolcy, Ruth, and Foley.
-----
RSS
NYC Events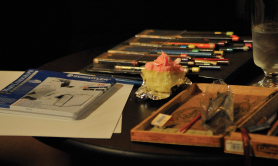 Art Tumblr