Branch Blog - Aberdeen, UK
Mon, December 24, 2012 • Season's Greetings from Dr Sketchy Aberdeen!
Ho Ho Ho Doodlebugs!!
As some of you may know, at the beginning of the December, we had our 3rd event, Dr Sketchy's Non-Denominational, Secular, Environmentally Concious Winter Solstice Cabaret Special! There wasn't an event posted up here, t'was all organised here on facebook! I could send a myriad of excuses your way about why I didn't put together an event here, the short version of a long story is that life got in the way.
ANYWAY! It's been a fun year at Sketchy HQ here in Aberdeen. We've been growing in popularity over our three events with our third being, if I do say so myself, an absolute BELTER of an event with these two handsome bastards headlining!
The official gallery is available at the Red Bairn Photography website and it's worth a wee look! Some fantastic work from Neil and we're really looking forward to working with him again! He's also the lovely chap responsible for the video above, isn't he a gem?! Check him out on facebook here.
Next year we're hoping to have some more fun with y'all and keep spreading into the cabaret scene, trying to bring more of the amazing selection of wonderfully talented performers up into our quiet little corner!
We hope you all have a great time celebrating the winter solstice however you see fit and have a lovely new year! We'll see you on the other side!
Happy Happy Joy Joy!
xx
RSS
NYC Events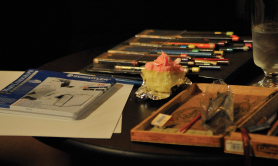 Art Tumblr
The results of tonight's Dr Sketchy's session :D
http://drsketchy.tumblr.com/post/69489605480