Branch Blog - Amsterdam, The Netherlands
Mon, October 31, 2011 • Second session Amsterdam
DAMES, DRINKS & DRAWINGS!
After the successful launch of the Amsterdam Dr. Sketchy's Branch in September, we follow up with our second edition, on Saturday November 5 in Club 8. Sharpen your pencils and sit tight to capture the beauty of pin-up pixie Felixy Splits, the classic & elegant Liberty Sweet, modern-day Marilyn Monroe Bettsie Bon Bon and Ooh La Lou, the Burlesque Barbie. As a special, models from La Rose Couture will show off historical burlesque clothing.
Book your tickets now for 10 euro at http://amsterdamburlesque.nl/#drSketchy or try your luck at the door for 15 euros (limited space!).
Bring your own drawing gear, we'll provide the atmosphere.
Where?
Club 8, Admiraal de Ruijterweg 56, Amsterdam
When?
5 November 2011, 18.00 - 21.00
RSS
NYC Events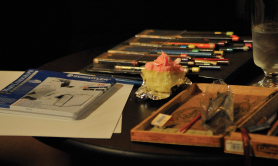 Art Tumblr
Dr Sketchy LA 12-3-13
http://drsketchy.tumblr.com/post/69027079376