Branch Blog - New York, NY
Tue, July 15, 2008 • Seeing Green
Do my eyes deceive me? It's Delirium Tremens as the spirit of absinthe itself, The Green Fairy! Le Tourment Vert was kind enough to sponsor this, our most drunken session ever, providing art monkeys with 100 proof shots of wonder.

Your thematically colored hosts! If you saw me stagger down Grand St covered in glow-in-the-dark stars, you have Le Tourment Vert to thank.
Strange absinthe delusions courtesy of Ms. Tremens
She's like a little bit of sugar, that is lit on fire, and then poured into a cup …er, wait this metaphor is going to a weird place. nevermind.
Sly gazes abound!
Our set for this session was a gauzy fairytale created by Dr. Simon and about a thousand watts of green light. Period-ish background
paintings by yours truly.
And Art! Our Flimsy Pretense. All prizes this week where shots or bottles of Le Tourment Vert. There was …much competition.
The word I'm looking for is "Gossamer".
A winner! With her very own bottle of legal Absinthe to enjoy and empty.
I love how many people drew in green.
You didnt see the knock-down drag out hair pulling match that precede this shot. DOn't put a absinthe in between two working artists, it never goes well.
Lights are pretty.
And now the bottle is dry and it's time to put Delirium Tremins back inside (again with the strange and confusing metaphors!). Thanks to Le Tourment Vert, The Lucky Cat, Syd, Eve, Steve, Hilary, Dr. Simon, and everyone came out to get wasted at 3 in the afternoon. You are the true heroes.
BUT WAIT! THere is more. We know Art Monkeys can deny everything but excess, so here are even more THRILLING PHOTOS from our Very Own Justin Lussier: Designated Redhead.
She looks a bit like Snow White, here.
If you belive in Delirium clap your hands!
Le Tourment Vert, beloved by symbolic representations everywhere.
I put an organic cherry in the glass, but everyone thought it was an olive, thus ruining my carefully thought out color scheme. FOOLS!
The incantatory Molly Crabapple with John Leavitt and a dirty drawing of Toulouse Latrec.
The winners! Of, what else, shots.
How the world looks after said shots.
And that's it once again from Justin Lussier! May a flight of spirits sing thee to thy rest.
Come back next time when we'll give Akynos a birthday party, the Dr. Sketchy way.
-JL
-----
RSS
NYC Events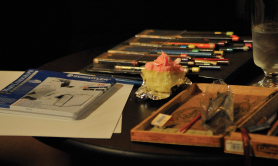 Art Tumblr