Mon, July 05, 2010 • Sensational opening night!
There was glitter, knickers and flesh galore at Dr. Sketchy's Falmouth's opening night...
The Great Cake Escape
's Fondant Fancy escorted a sea of sketchers through an evening of nautical naughtiness, 007 delights and smouldering strip-tease thanks to performances from Cherry Shakewell and Miss Scarlet Rose. With a musical backdrop of Fench cafe meets vaudeville, these beautiful women posed in the finest of costumes much to the sketchers' delight. Fondant also added a sprinkle of contests and lovely prizes to get the imagination working. The 'who can incorporate the best drawing of a Dusky Titty Monkey' round proved an intriguing treat! An array of fantastic, ridiculous and beautiful drawings were produced by everyone- artists, tatooists, art students and those that simply fancied giving sketching a whirl. Thanks again to Just Like This, Two Little Birds and I Dream in Clockwork for providing the prizes and to Missy Mixed Media for the aural backdrop.
RSS
NYC Events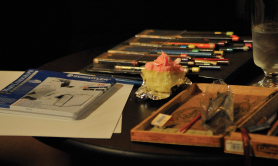 Art Tumblr
Dr Sketchy LA 12-3-13
http://drsketchy.tumblr.com/post/69027079376