Branch Blog - New York, NY
Tue, July 18, 2006 • She Comes In Colours!
Happy Bastille Day Art Singes! To honor the 213th anniversary of Marie Antoinette suffering a slight case of beheading, we presented Darlinda Just Darlinda as a rainbow mermaid clown. What could be more French then that?
Liberte! Egalite! Sparkles!
Black and white means serious. These are serious drawings. Serious drawings of a rainbow clown mermaid in funny poses.
But black and white cannot do justice to the technicolor wonderland that was Darlinda's makeup.
For the mere price of 10$ you too can see things only a deadhead suffering from horrifying acid flashbacks in the park can see!
Thats not a rip in space time. Those are two separate photos. Some lucky chap brought a computer! Nudging us uncomfortably into the 21st century!
He won the "Best Incorporation of a Gullitente" contest, proving that technology will always win. ALWAYS. Hear that you damn hippies?
Oddly enough, no one tried for the drinking contest, showing a disturbing amount of moral fiber among young Art Monkeys. So me, Ryan, and Darlinda drank it all together, at once, though straws …so nobody really "won" after all.
Creator and Hostess of Dr. Sketchy's, Ms. Molly Crabapple performing the following actions.
1. Doing her best Famke Jameson expression.
2. Pretending to a 30s starlet.
3. Having her face ripped off by her "boyfriend" who is actually a shadow-dwelling shapeshifter.
And so ends another Dr. Sketchy's. Thanks to the Lucky Cat, Ryan Roman, Syd Bernstien, All our sponsors and all of you, for just being so gosh darn special.
UPDATE!
Next week is "Bring Your Friend Who Can't Draw" Day at Dr. Sketchy's! Licentious and possibly Libelous coloring pages! It's the best fun you can have with crayons without sticking them up your nose and chasing Susie Derkins around the room shouting "I'm a Walrus! I'm a Walrus!"
Same Sketchy place, Same Sketchy Time.
Best,
-JL
RSS
NYC Events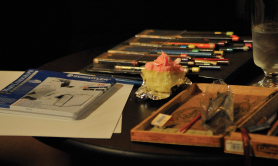 Art Tumblr
Sister Mary Willow
Dr Sketchy's Auckland 03/12/13
http://nomadshotline.tumblr.com/
http://drsketchy.tumblr.com/post/68974877262