Branch Blog - New York, NY
Wed, June 07, 2006 • She Don't Use Nothing You Find at the Store…
Greetings, art primates of all genera!
Last week, your delightful usual blogger Mr. Leavitt was diagonosed with an ovarian cyst that would later turn out to just be a smudge on the x-ray. He bravely dealt with this illness the way he handles all of life's challenges - with copious amounts of alcohol. So it was that he spent this Saturday in the hospital suffering from liver failure that would later turn out to be another smudge on the same x-ray. The always-lovely Molly Crabapple and I had to run Dr. Sketchy's shorthanded, but what we lack in hands, we more than make up for in chutzpah!
Besides, we all learned a valuable lesson about not eating chocolates while examining x-rays.
We were fortunate to have the voluptuous Tangerine Jones posing for us and setting our hearts aflutter.
One contest was to do a drawing based around A Million Little Pieces by James Frey. I advised the crowd that if they weren't familiar with the book, they should just make something up. That's what he did.
For when things got a little bit too hot, Miss Jones brought a fan.
Between Tangerine's poses, our artistes were treated to my own interpretive dance, which, in a rare bout of modesty, I did completely clothed.
I apologize for how well-covered I am in this picture. I will try not to let it happen again.
The prize for the random noun contest ("candy" and "crayons") was this signed and framed photograph of the now-defunct (a Spanish word meaning "of, from, or belonging to funk") Red Hots Burlesque.
And a good time was had by all!
Extra-special thanks to Gary Winter for the awesome, awesome pictures, to everyone who came out, and, of course, to YOU!
-Syd Bernstein
-----
RSS
NYC Events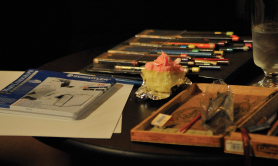 Art Tumblr
Dr Sketchy LA 12-3-13
http://drsketchy.tumblr.com/post/69027079376