Branch Blog - New York, NY
Tue, January 15, 2008 • She Looks Gorgo-geous!
John Leavitt, among many talents, is the one who usually sets up the scenery at Dr. Sketchy's. With him away in Europe, we had to make do with rather spartan set dressing. Fortunately, we also had a rather Spartan model, the lovely Lady J!
Lady J celebrates her Greek heritage, and I celebrate her celebration. It's all very celebratory. And hot. Totally hot.
I am combing my Victorian literature for a Leavitt-esque reference to make, but I'm drawing a blank. You see, the Athenians had the philosophy and the Thebans had the drama, but there was absolutely nothing funny about the Spartans.
Okay, so I think I've got a Spartan joke:
A naked man walks into a bar in Lacedaemon. The bartender says, "You look particularly stoic today." The naked man says, "My brother just died of me killing him." Then he went home for some anal sex and flogging.
What do you think?
Molly Crabapple, our hostess (not shown: the piles of fallen Persian soldiers at her feet)
Our prizes at this session were genuine Greek artifacts donated by the model herself.
This was Andrea's award-winning drawing, demonstrating the secret to victory at Dr. Sketchy's - subtlety and class.
You may think that 300 is a natural inspiration for taking one's clothes off, and sure it is, but I know there's another purpose to this theme. Lady J is testing the waters for further sessions based on Frank Miller movies. The next one? Robocop 2.
I'm afraid I have run out of time, art monkeys and art monkey enthusiasts. Thank you to our photographers, Ryan Roman and Justin Lussier; to everyone's friend, Eve Butler; to our constant inspiration, Molly Crabapple; and to you, the mysterious reader, whoever you may be.
-Syd Bernstein
-----
RSS
NYC Events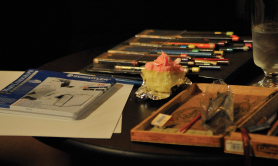 Art Tumblr
Dr Sketchy's LA 12/3/13 (pt. 1)
artofach.blogspot.com
http://drsketchy.tumblr.com/post/69132640329