Branch Blog - New York, NY
Tue, June 07, 2011 • Simchat Tura
Hello, Art Monkeys.
As you have no doubt heard by now, Hollywood legend Tura Satana passed away earlier this year at the age of 72. We at Dr. Sketchy's Anti-Art School are great admirers of Ms. Satana, so we decided to celebrate her life the only way we know how - through burlesque life drawing. Come to think of it, that's pretty much how we do everything. We had wanted to do a tribute to her most famous and celebrated role, Tomo, the fan dancing femme fatale of The Man from U.N.C.L.E., but we were unable to find a convincing fan on such short notice, so instead we opted for the theme of Varla from Faster, Pussycat! Kill! Kill!, which I understand also has a following. Amber Ray played Tura playing Varla and Kate Black photographed.
Like Spider-Man, her black suit gives her special powers.
A special look at the creative talents who work so hard to bring you Dr. Sketchy's Anti-Art School.
An even more special behind-the-scenes look at just Amber, because we don't honestly think you came to see us.
I don't know what this was about, but I am terrified.
Our traditional Left-Handed Drawing was forsaken at this session in favour of the single-line drawing, because we are not slaves to routine. Then, the following session, we brought back the Left-Handed Drawing, because we were bored of novelty.
A stirring case for the second amendment.
The Bowery Poetry Club has been making drink specials for each session that are both affordable and delicious. We love our venue.
One artist, in absence of a sketch pad, brought grocery bags to draw on. Like most ecologically sound moves, this was very impractical.
As Foley and I examine the contest entrants, Amber plots her revenge. "Soon, my precious," Amber says to her beloved shotgun.
Look out, Foley!
Tura was born in Japan, but here she looks more Thai. Get it? Tie? You know what, I don't need your approval.
Some of the art and artists from the session.
A spotlight on our friend Paigey, because we like her and her atwork more than you.
Amber and I laugh in the face of Aradia Ardor's mortality.
This session was a while ago, so I honestly don't remember what the theme for our drinking contest was. The following drawings seem to indicate that the theme was Tura Satana's 1968 film Astro-Zombies...
...but these ones tell a different story...
...and I think that story is, "John is terrible at picking thematic entries for contests," which isn't so much a story as a useful maxim for your everyday life. He must be punished for this!
Let this be a lesson: We don't fuck around with our contests. Also, Squishable ducks are acceptable losses.
And that is it for this session. Thank you to Melissa, Foley, Kate, John, Dennis, Keith, and everyone who wasn't pictured.
- Syd Bernstein
RSS
NYC Events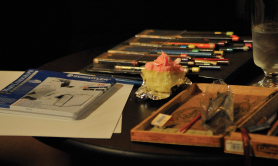 Art Tumblr
https://vimeo.com/81362468