Branch Blog - Chicago, IL
Sun, September 02, 2012 • Sirens of the Silver Screen a Smash Hit in Chicago!
Oh, the drama! The scandal! The nudity!
Dr. Sketchy Chicago's Sirens of the Silver Screen session was a smash hit, and we thank everyone for coming out for it!
The girls were hot, the artists were talented, and the popcorn was delicious. We had a great time, and hope you all did to.
Our next event is October 28th when we present Helloween, featuring model Viva La Muerte from Hot and Heavy Burlesque and a special, spooky performance by Kami Oh! Details to come!
RSS
NYC Events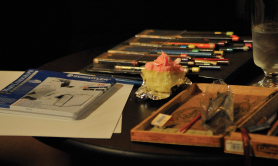 Art Tumblr
Dr Sketchy's LA 12/3/13 (pt. 1)
artofach.blogspot.com
http://drsketchy.tumblr.com/post/69132640329