Wed, August 10, 2011 • Sketchiness in South West Florida
Due to a scheduling conflict with our venue we will be changing our Punta Gorda event to the LAST Wednesday of the Month. I'm working on updating all the various websites with schedules posted so if you catch something somewhere that I missed let me know!
Wednesday, August 3rd we held our event at the fabulous Torch Bistro in Punta Gorda. Our Muse for the evening was the uber-talented Angela Hicks. She dazzled us with a series of poses that while reviewing the photos from the night, its hard to believe she was standing still and not mid-dance. As promised Angela's style, a fusion of cultural dances and the influence of her own gypsy heritage where evident in her poses. The props will included her sharp-double edge Turkish scimitar sword, a middle eastern dumbek, colorful veils, and intricate hand made costume. Angela Hicks is a belly dancer specializing in sharp sword balancing. She has performed for the past five years throughout SW Florida and Los Angeles for festivals, fundraisers, and special events. She graduated from FGCU in 2010 with a BA in Art and a Minor in Interdisiciplinary Studies. Her sword dance is a performance art piece that symbolizes the strength of feminity and demonstrates having trust in oneself. Angela's Website:
http://www.swordbalancer.com
We had several contests throughout the evening, prizes were awarded to Stuart Stuthers for 1st place Model's Choice, Matt Deterior of Englewood for 2nd place Model's Choice, Michelle Lea Calhoun of Port Charlotte 3rd Place Model's Choice and Matt Deterior of Englewood for Wrong Handed Contest. Everyone's sketches were so great I wish I could have just given everyone prizes (but I didn't bring enough!).
Check Out the Rest of the Photos from the Evening HERE!
Thank You to everyone who made it out and Don't forget, September's Event is moved to the 28th! Friday, August 5th Dr Sketchy SWFL invaded the Fort Myers Art Walk. We had a wonderful turn out and met lots of wonderful artists of all ages (our youngest artist was 3 years old!). We set up at the Sidney and Berne Davis Art Center at 6:30pm and by 7 we were sketching up a storm, quite literally, it started to drizzle so we had to once again take cover until things cleared up. Our Muse for Art Walk was the sweet Autumn Skye from Hen House Entertainment (SWFL's LGBT Burlesque & Drag King Troupe)
Our theme for the evening was inspired by the decision that every good doctor needs a Candy-Striper! We brought free candy to lure the masses to draw and Autumn Skye donned a Candy-Inspired Candy-Striper costume! Check out the
Article that was written about our event by Tom Hall of the Fort Myers Examiner
! It was a Scorcher in Fort Myers on Friday, we were all melting! Thank You to everyone who took time in the blazing heat to draw and Super Love and Thanks to Autumn Skye for putting up with the heat for our Art!
Lots of amazing art was created! (
View all of our Pictures from the Evening Here!
)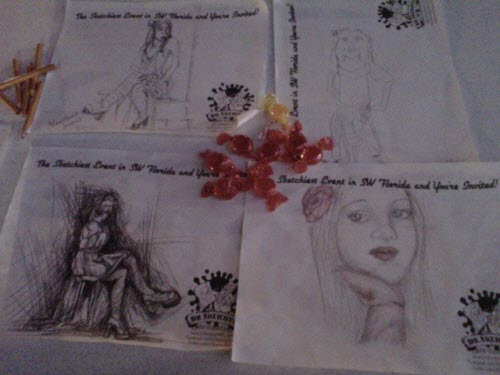 I also should mention that while we were doing our sketches there was a lot of hustle and bustle as a film crew set up to shoot a music video feet from where we were drawing! By the end of our event we were all humming and singing along to the song (which thankfully was rather catchy) as it had been playing on repeat for most of the evening. Morgan Le is, from what I've gathered, an up-and-coming musician from Sweden.
We also had some very special visitors from the Calusa Nature Center!
Next Art Walk is scheduled for September 2nd - Hope to see you there! Love, Heathyre & Brian
RSS
NYC Events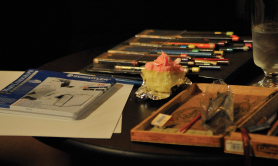 Art Tumblr
Dr Sketchy's LA 12/3/13 (pt. 1)
artofach.blogspot.com
http://drsketchy.tumblr.com/post/69132640329