Mon, April 18, 2011 • Sketchiness under the Big Top
Laaaaaaaadies and Gentlemen, Artists and Photographers, Art Monkeys of all ages…Thank you to those who joined us for the Amazing…the Spectacular…the SKETCHIEST Event in South West Florida! Our theme was the Big Top Circus and the spotlight was on our "Ringleader" for the evening was the enchanting Sheina Fae. Once again, Dr Sketchy's SWFL was able to out do ourselves in what many of our Art Monkeys are haling our best Sketchy Session yet! If you were unable to make it this month, you certainly missed a good one…in fact, since we keep out doing ourself, you just might want to save the date for May! Not only was our model Sheina Fae full of great poses for us all the sketch, she was also photogenic! Check out that gorgeous photo taken by Artist and Photographer Dee Ott. We also had several contests and gave away some neat prizes from our Sponsors. Our first contest was a new one for the SW Florida Branch, I joked about how evil I could be, and to prove it I introduced the "Wrong Handed Sketch" where as you can guess, "If you are Right handed you draw with your Left, if you are Left handed you draw with your Right, and if you're ambidextrous….we hate you right now ". Just kidding. No really. Genessa Burke Penrod was the winner of our 5 minute "Wrong Handed Sketch" where she did an amazing sketch of Sheina's eye makeup on her iPad and was the proud recipient of some delicious (freshly roasted) coffee from our local sponsor, Mrs. McDougall's Roasting House Coffee. Genessa hasn't emailed me a copy of her artwork yet, but I will post it as soon as she emails me copies. Our Second contest for the evening was to incorporate some Science Fiction into a 10 minute pose (we were going to have the theme be Doctor Who however not everyone has become addicted to the series, so I assigned homework for everyone to go watch some episodes if they have not already *heehee*). The winner of our Sci-Fi Sketch was Anne Fox and she won a gift from our National Sponsor, Baby Tattoo Books.
Our last contest for the evening was Model's Choice for the evening. The Runner-up was a Sketch by Stuart Stuthers who took home a gift from our National Sponsor, Baby Tattoo Books.
First Prize for Model's Choice was a Sketch by Dee Ott who won a Gift Certificate to Punta Gorda's Ice House. The really neat thing about Dee's sketch is that rather than sketching 10 1 minute poses she combined them all to create this masterpiece. I absolutely love the creativity that pours out of this group of artists!
Check out this sketch by Jonathan Fox – this was for our 1 minute warm up poses, I love how just a few quick lines convey so much detail. This is why the 1 minute poses are so much fun, stressful but fun.
Being the Time-Keeper usually means I don't get to sketch too much while keeping my eye on the clock, however I do enjoy going back later and doing some sketches based off of the photographs from the evening. I decided to try my hand at drawing/sketching Digitally using only MS-Paint. Thankfully I have a Stylus so I don't have to fuss with a mouse, but I started too small and couldn't do too much detail so I zombified Sheina in the name of art. *lol*
I just wanted to take a moment to thank all the Artists who came out to draw (and who chose Dr Sketchy's over American Idol!) and also to Sheina Fae for being an amazing Muse. I can't wait for next month! Keep it Sketchy! Love, Heathyre
RSS
NYC Events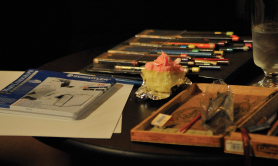 Art Tumblr
Dr Sketchy LA 12-3-13
http://drsketchy.tumblr.com/post/69027079376