Thu, November 03, 2011 • Sketchy Dia de Los Muertos São Paulo
DR. Sketchy's Anti Art School São Pailo, Brazil presents "Dia de Los Muertos"
Where? At Quanta Art Academy events space, a very unusual art school of comics. Grab a beer and have fun at this crazy session by the The Burlesque Takeover.
When? Next Saturday, starting sharp at 7:00 PM, please arrive early to get better sits.
Cheers !!!
RSS
NYC Events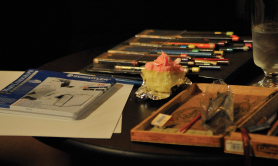 Art Tumblr
Dr Sketchy's LA 12/3/13 (pt. 1)
artofach.blogspot.com
http://drsketchy.tumblr.com/post/69132640329