Branch Blog - New Haven, CT
Sat, January 08, 2011 • Dr. Sketchy New Haven Take 2: Lots of upcoming greatness!
Dr. Sketchy is back in New Haven after a brief hiatus with a new headmistress! Angie Chambers has taken over the New Haven chapter and is starting off the year rolling. January 30th at Cafe Nine - Mermaid Wonderland with Jenna Pettit February27th at Cafe Nine - Siamese Spectacle with Lily La Vamp and Nikki Le Villain We also have projects in the works with Real Art Ways and The New Britain Museum of American Art as well as a fundraiser to benefit the MS Bike Ride occurring in April. Stay tuned for more updates, photos, and excitement to come!
RSS
NYC Events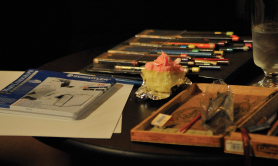 Art Tumblr
https://vimeo.com/81362468