Branch Blog - Providence, RI
Fri, September 28, 2012 • Slaughterhouse Sketchy's

So it's October and its time for blood guts and pencils. Screaming onto our stage this month will be Belle Gunz and Sake Toomey of the Slaughterhouse Sweethearts Bostons most gruesome burlesque troop. We've been dieing all year for these ladies to show us what it means to have a fatal attraction.
Where life drawing meets burlesque. Whether your good, bad, in need some practice or just starting out to try something new, any and all skill levels are welcome. With games to play, and prizes to give away your
sure to have a great time!
Quick poses to begin with to get you started then gradually getting longer, with less and less clothes.
http://www.facebook.com/provsketchy
http://www.drsketchy.com/branch/Providence
101 Richmond Street Providence R.I.
Weds. Oct. 17th 6:00-8:30 P.M.

$8 at the door
18+
RSS
NYC Events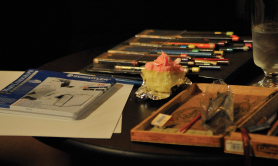 Art Tumblr
https://vimeo.com/81362468