Branch Blog - Brighton, UK
Mon, September 06, 2010 • Smashing!
We did it! Our first Dr. Sketchy Brighton event went off without a hitch and everyone had a fantastic time.Naughty skool grrlz (from left) Gil Cohen, Holly Ray and Jen-the-Roo . . .
gave their hilarious Headmistress Cresswell a run for his money with their bad grrl attitudes and saucy antics.
We were even treated to a special school medley by bad boy James Daly and Holly Ray.
Are there are some talented artists in Brighton or what? It seemed every where we turned someone was creating a masterpiece.
And our grand prize winner made us giggle with her playful and quirky comic strip.
RSS
NYC Events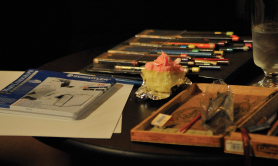 Art Tumblr
Dr Sketchy's LA 12/3/13 (pt. 1)
artofach.blogspot.com
http://drsketchy.tumblr.com/post/69132640329