Branch Blog - New York, NY
Wed, October 17, 2012 • So Long, Farewell, Auf Weidersehen, Goodbye
Adieu, Art Monkeys.
Recently, Dr. Sketchy's Anti-Art School had its last session at the Bowery Poetry Club. At the same time we were leaving our home, Raquel Reed was leaving hers. While Dr. Sketchy was merely moving a few blocks downtown, Raquel was moving clear across the country, to the rancid, decaying hellhole of Los Angeles. Naturally, we had to have one last session with Raquel, and, as any jilted lover, we had to express how much we hated California and their stupid everything. Kate Black took pictures.
This outfit was deemed "not fancy enough" by the Los Angeles Chamber of Commerce, and Raquel had to change it midway through the session.
Raquel removed her glove and used her ungloved hand to vote for Governor Jerry Brown, knowing that I could no longer crack wise about her governor if Arnold Schwarzenegger was not in office. Well you know what, Jerry Brown? You're bald!
There's a football team in California called the Raiders, but do you know what they should be called? The Gay-ders! Not just to show solidarity with the thriving Bay area homosexual community, but because then it would sound like "Gators," which is a good name for a sports team. Go Gay-ders!
Backstage, we have some shots of Raquel getting dressed. Whenever I see women do that, I just think it's such a wasted effort.
I have been told that the safest place to be during an earthquake is in a doorframe. I say the safest place to be is the east coast.
Raquel sits on a leopard-print chair, contemplating her next move. Also, the Beach Boys suck.
Frankly, I have forgotten what our first contest was. These photos aren't exactly helping.
A rarely seen photo of our fascinating drawing selection process.
They say that Hollywood changes people. I don't think they only mean clothes.
Raquel looks behind herself apprehensively. If I learned anything from Ice Cube lyrics, you better learn to watch your back if you're going to live in L.A.
To get the full experience of judging a Dr. Sketchy's contest, imagine this picture four additional times, with different drawings being held up.
Oh yeah, especially go gators made by our good friends at Squishable!
Finally, Raquel was through fucking around and put on the least clothing she had.
These are just some of the unfortunates rendered homeless by the Bowery Poetry Club's closure. We hope to have Dr. Sketchy's Anti-Art School up and running again before they must resort to doing something useful with their time.
Here, we see a small sampling of the fantastic art that our artists produced. I am crediting the good quality of their artwork to them living somewhere decent, unlike certain shitty states I could name.
Take one last look, New York, at what the West is taking from us.
I don't know the context for this photo, but I won't argue with it.
Hey! Wait! That isn't Raquel! What manner of trickery is this?
Here we are judging our final contest at the Bowery Poetry Club. It was as dramatic and epic as this picture makes it seem.
And now that it's over and I'm more level headed, I forgive California. I know that it only means well in the depths of its limousine liberal heart. It only made those Transformers movies because it was confused. Take good care of Raquel, you wacky state, you.
Thank you to Melissa, Foley, Kate, Yao, and Keith
- Syd Bernstein
RSS
NYC Events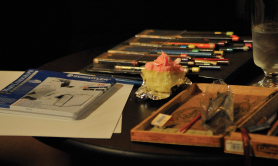 Art Tumblr
https://vimeo.com/81362468