Branch Blog - Baltimore, MD
Thu, November 29, 2012 • Sophia Sunday on a Saturday
We've gotten a little behind with our blog posts - busy, busy, busy, but we're catching up. Sophia Sunday's session was amazing, and her Fever act is easily one of my favorite burlesque acts. The video and Alexis's photos do a lot better job backing that up that my silly words could, so take a look.
You can check out the photos and drawings here. (Just scroll to the bottom.)
We'd like to thank Matt Craft, Tim Kelly, John Schloman, Fred Zeleny, and Hannah Levasseur for sending in their drawings, which you can see in the above link.
Super duper thanks to Sophia Sunday of Gilded Lily Burlesque for being our muse for the evening; special thanks to our generous sponsor Atomic Books for providing prizes for the various drawing contests; thanks to Maeve for holding the door down and helping do all the setup and takedown stuff; thanks to Russell for slinging booze and tunes; and of course thanks to Alexis for the beautiful photos you see before and running the mic for the whole hootenanny.
RSS
NYC Events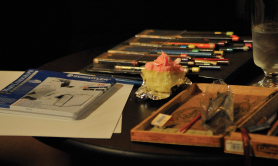 Art Tumblr