Branch Blog - New York, NY
Wed, October 08, 2008 • Sparkle Motion
Happy belated birthday to me bitches! Dr. Sketchy's fell on my exact birthday, so we brought in two models, glitter and gift-wrapped just for me!
The luminous Amber Ray Machine Dazzle Of the Dazzle Dancers! All Amazing! All Glitter! All Over! Thanks to Dr. Simon for the photos and the Graduation-Party-Acid-Trip set design.
Your hosts presenting a prize, a fine free tank top! The wonders never cease at Dr. Sketchy's. Note the crown. It is an evil omen.
One and two minute poses! I think that first shot is called "Adorable Of the Fabulous" but I'm not sure.
This is more or less what I see when I close my eyes anyway.
Everyone do the funky chicken!
Some behind the scenes shots. Again, note the crown, it becomes important.
Here I am receiving the traditional Dr. Sketchy's Pointy Cake Of Doom. The wearer of the Traditional Sparkle Crown also must undergo the traditional Birthday Ritual.
You people are fuckers. Seriously.
Enough of my disturbingly white rump! More glitter fantastico with Amber and Machine.
Thematically consistent tassels make me a happy panda.
Molly is making that look of terror because that is my *4th* Manhattan, and we all know what happened last time. Well, other people do. I don't.
Molly presents our prizes of delicious booze!
And the winners! Oh Smo, how we missed you so.
And that's it til next week! thanks to Amber Ray! Machine Dazzle! Steve! Syd! Dr. Simon! And Justin Lussier! Come back next week for a CLASSY and SOPHISTICATED session, not like the crap we usually do.
-JL
BUT WAIT! You, dear reader, get more with Dr. Sketchy! Justin Lussier has his own sparkly, sparkly take on the evening.
And in heels!
Oh why do you mock my pain?
I'll get you all back one day, oh yes I will.
I believe the contest was "Limp Cotton". No, I have no idea why.
Thanks again Justin!
-----
RSS
NYC Events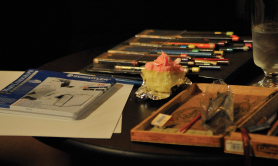 Art Tumblr
Sister Mary Willow
Dr Sketchy's Auckland 03/12/13
http://nomadshotline.tumblr.com/
http://drsketchy.tumblr.com/post/68974877262