Branch Blog - New York, NY
Tue, March 08, 2011 • Spider - He Is Our Hero
Hello, Art Monkeys.
It may be necessary for you to lie down for a few minutes. If you're experiencing vertigo, it might have something to do with our choice of themes lately. You see, right on the heels of our spectacular Sandman session, we just had our mind-blowing tribute to Warren Ellis and Darick Robertson's comic book masterpiece, Transmetropolitan. If you are unfamiliar with the series, first of all, where the fuck have you been? I guess some sort of explanation is in order. It's sort of like Hunter S. Thompson meets Futurama and... really, I think that's all you need to know. The session was to promote the upcoming Transmetropolitan art book. The proceeds from this book go to the Comic Book Legal Defense Fund, so it's for a good cause, but even if it weren't, you should still preorder a copy, just because it's got a shitload of great artists' work. For our session we had genderqueer model Jiz Lee filling the role of outlaw journalist Spider Jerusalem and the statuesque Ryan Keely was his filthy assistant, Channon Yarrow. Justin Lussier took pictures.
Nothing brings people together like cigarettes and bowel disruptors.
Just underneath Spider's callous exterior is his utter, unadulterated contempt for you, the audience.
Ryan Keely is on the cover of the March issue of Penthouse magazine, on sale now. I know this because I read Penthouse for the articles. There are articles in Penthouse, right?
The drawings for our first contest were drawn with the artists' left hands because their rights were busy flipping people off.
Spider's tattoos didn't just happen, you know. Here is a rare peak backstage with our professional tatto artist friend Jess and her army of helper monkeys applying all of those tattoos.
I don't know what Spider is yelling in this scene, but if I had to guess, it's probably an obscenity.
For our second contest, we had the artists incorporate future technology into their drawings.
This one confuses me, which is why I'm sure it's art.
I actually received clarification from the artist that the future technology depicted was merely a marker that never gets dull, but I still contend that it has some magical anti-aging properties, because that Spider is damned good-looking for 87.
It's iPollen! Now 50% less fatal!
A box of dicks, obviously.
But the winner was this depiction of a scene from the rough draft of A.I. He is not real, but his blowjobs are.
The winner received a lovely book from our friends at Baby Tattoo.
Here, you can kind of see John and I hosting the session. For those of you with really good eyesight, I'm the one in the suit, smiling.
I should point out that the smoking two-headed cat used for this session had to be sewn together from two one-headed cats, as stuffed two-headed smoking cats were not available. What the hell, stuffed animal manufacturers?
We picked our favourite drawings of this reenaction of the classic scene in which Channon woke up next to a naked Spider to submit for inclusion in Transmetropolitan art book, which, if you haven't already preordered, you should preorder right now.
(Bonus photo by Christy Sawyer)
For this session, Foley shaved half of his head to play the role of Fred Christ. He also severed his thumb, but that's another story. The point is, that's real dedication. The next time someone makes a big deal about Tom Hanks or Robert De Niro gaining some weight for a movie, remember this image of what a real man looks like.
And this is what a real man looks like getting beaten with The Chair Leg of Truth. Real art is painful, Mr. Foley.
I love how Jiz Lee was apparently distracted by Ryan's ass halfway through this pose. Not that I can blame Jiz.
Our last contest of the session was to make your drawing into a comics page.
We especially liked the ones that used the word "fuck."
The winner received the greatest gift we had to give - Spider's cock.
And while our other contest winners enjoy their free liquor (the best kind of liquor), we must take our leave. Thank you to Molly, Jess, Melissa, Justin, Foley, Tim, John, Paul, Yao, Lauren, Christy, Dennis, and Dolcy.
See you next time.
- Syd Bernstein
RSS
NYC Events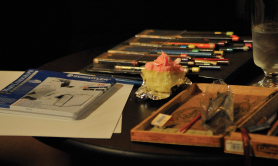 Art Tumblr
Dr Sketchy's LA 12/3/13 (pt. 1)
artofach.blogspot.com
http://drsketchy.tumblr.com/post/69132640329