Branch Blog - New York, NY
Mon, November 20, 2006 • Stuffing.
Now is the time of year when we think back to the trails of our pilgrim ancestors, who left England because they where unhappy with the level of repression available to them at the time. So as we gather around our ritual animal sacrifice (with pie!) let us consider what we are thankful for.
I for one, am thankful for Aprella.
I think we all are thankful for that. Nothing says Thanksgiving like a leggy green-haired super heroine at Dr. Sketchy's. Nothing.
Aprella!The Fetish Goddess had thoughtfully taken a break from driving men wild to pose for us. For this we *all* should be thankful. She all dressed up like Sunday Comics! Ryan Roman deserves a whole can of cranberry sauce for these photos.
She does look a bit like she was lovingly crafted in Japan, doesn't she?
Again with fire-regulation-breaking attendance! Seats go fast and furious, so remember to arrive by 3… unless you feel sitting on the floor helps artistic flow.
Why it's Me! Drinking! How novel. Also, creator and host Molly Crabapple, looking like she she will melt your ennui away with slivery laughter! Molly is wearing a t-shirt from Evilkid.com. Why is kitty upset? Something you did.
Contests? CONTESTS! Best incorporation of a "facetious Cheese" Merriam-Webster defines facetious as 1 : joking or jesting often inappropriately : WAGGISH . Qualities not normally found in cheese, but none the less, the Art Monkeys forged ahead!
Harshly judging you, yes, you. A Finnish TV crew filmed this session, begging the question "Why are we so popular in Scandinavia?" The cold nights? Socialism? Ethical Burlesque? Artists Of the World Unite! You Have Nothing TO Loose But Boredom!
The winner! He won "something green." I think it's better for everyone if we don't know what it is.
Other prizes included a Neighborhoodies sweatshirt and a free ticket to Sweet And Nasty Burlesque. Of course, at Dr. Sketchy's No one leaves empty-handed. Especially if said person is a world-famous model! Aprella models with a naughty leather handbag from Hell's Belles Finishing School For Girls, your one-stop shop for rockabilly chic. That's Hell's Belles. http://www.hbnyc.net/ Go buy something. You wont miss anything. I'll just be here reading a paper. Go. Now.
Welcome back. It was yet another birthday on Saturday! Art Monkey Steve Walker survived for a WHOLE YEAR! So we wore hats. Well one hat. But damn does she wear it well. Steve does almost all our updating and website work. He's handy with tools and heavy-lifting. He's a comic book artist. Did I mention he has a kick-ass mohawk?
Well he does.
And thus endth the Dr. Sketchy. Thanks to everyone who pitched in to make this one of the most crowded, rockin, kick-assingist sessions ever. Thanks to the Lucky Cat, Syd Bernstien, Ryan Roman, Steve Walker, all our sponsors and well-wishers, and to you…my faithful reader. I love you most of all.
Come back next time when The White Boom Boom and Girl Friday will mob it up a bit.
-JL
RSS
NYC Events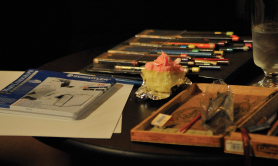 Art Tumblr
Dr Sketchy's LA 12/3/13 (pt. 1)
artofach.blogspot.com
http://drsketchy.tumblr.com/post/69132640329