Branch Blog - Anaheim, CA
Sun, May 06, 2012 • Sunday, May 13th - "Ink-n-Iron" Pageant Beauty Megan Renee
Ink-n-Iron is fast approaching. Classic cars, Pin-up Beauties, Tattoo's galore! And Dr. Sketchy's Anaheim is reving their engine with a month featuring the festival's Pin-Up Pageant Beauties.
Pageant Princess Megan Renee will be the first to take the Rothick Art Haus stage this Sunday May 13th. Don't miss an opportunity to get your sketch on.
Voting for the Pageant is still open here and she could use your help to win. One vote can make the difference at this stage.
Time:
Sunday May 13th
7 pm to 10 pm
Location:
Rothick Art Haus
170 S Harbor Blvd.
Anaheim, CA 92805
$10 Online Prepay
$12 At the Door.
RSS
NYC Events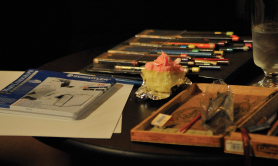 Art Tumblr
Alvin Black III
Frosty's going to melt…at Jingle Belle, Dr Sketchy Chicago Branch
Model: Rhonda Vous

my work on facebook: https://www.facebook.com/AlvinthethirdPainting
http://drsketchy.tumblr.com/post/70620589200