Branch Blog - New York, NY
Tue, December 02, 2008 • Super Massive Slipper Room Photo-Mega Post Of Justice!
Dr. Sketchy's Anti-Art School invades Manhattan! Super-Duper Model Mosh rocked our rubber world for our very first Manhattan outing. It was so big, so juicy, and so amazing that it took 3 photographers to cover it all. Enjor our Mega-Mosh Mashup from Dr. Simon, Justin Lusssier, and Steve Prue by clicking the link below.
Dr. Simon leads the way with a cavalade of poses and shiny things.

The music was all pyschobilly and hard rock. It was like Heavy Metal came to life! For you!
Oh, the lighting!
Our Art Monkey team constructed that o so thematic set! Go them!
Wowza. Ahhh. The photos, it's like being there without the all the charcoal dust and sweaty watercolors!
And now! Justin Lussier and his red, red lighting!
Justin Lussier's camera is a thing to be both feared and respected.
And finally, a very very special Dr. Sketchy's Guest: Steve Prue! He's all famous and shit. Here are his behind-the-scene shots of Art Monkeys being all drunken and foolish. Take it away!

And That! Is! It! Thanks to the SMALL ARMY who came to help out and support us in our New New Venue. Come back this Saturday to the Slipper Room at 4pm for Julia and Nik Sin in a tribute to KISS.
-John-"Party Every Day" Leavitt.
-----
RSS
NYC Events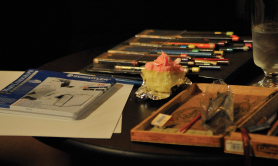 Art Tumblr
Dr Sketchy LA 12-3-13
http://drsketchy.tumblr.com/post/69027079376