Branch Blog - New York, NY
Thu, May 21, 2009 • SupercalifragilisticexpiDavidStoupakis
Hold on to your hats, Art Monkeys! It's time for part two of our Art Star series, saluting our ultra-famous friends in the art world. This session's inspiration was David Stoupakis. In case you're unfamiliar with his work, I believe I have a sample of his work around here somewhere…
Oh, great. Now I'm going to have nightmares for weeks.
So, very appropriately, we had David's own personal muse pose for our session. I know what you're wondering - What sort of woman could inspire Stoupakis' horrific yet beautiful artwork? It's none other than the horrifically beautiful Aprella!
She has the class and style of the 18th century, but better, because there's an octopus.


Notice the painting in the background? That's her! In the costume she's wearing! Subtle touches like that take Dr. Sketchy's Anti-Art School from a loose gathering of drunken reprobates into one of the driving forces in art today.
For the toddlers in the audience, Aprella plays a game of peek-a-boo.
For our first contest, Aprella changed costumes and gave us what I'm pretty sure is an obscene gesture in Italy.
Here are the drawings done with the artists' non-dominant hands. I'm not sure why there's a rabbit in that last one. I think it's Aprella's spirit animal.
At this point, a ribbon started to grow out of Aprella's mouth. How embarrassing! Fortunately, she had a pair of scissors handy to take care of that.
And for those of you who like to see how Dr. Sketchy's relates to previous works of art, here's David Stoupakis' painting:
And here is the Dr. Sketchy's version:
So there you have it.
Our photographer Justin Lussier surreptitiously photographs our audience at work - one of whom has paints! Pretty!
We're about halfway through the photos now. Time for a cupcake break.
Returning from the cupcake break, we find that Aprella has donned a veil… to… wed a lamb… I guess… What a cute couple.
And speaking of abominations against nature, for one of our contests, we challenged our audience to create the kind of fusion of woman and cephalopod rarely seen outside of Japanese pornography.
And the audience not only complied, they excelled!
Modeling is hard work, and here Aprella fans herself off - while still posing! That's professionalism!
It seems Aprella lost her kite, so she had to fly a baby instead.
Why did someone suggest ninjas for the random noun competition? I hate ninjas. I hate them so much. Fuck you, Internet!
You know why I like these drawings? No damned ninjas!
Here, the winners of the drinking contest receive their prize. Ah, watching people imbibe liquor together just warms my heart! It almost makes me forget about those fucking ninjas. But not quite. Fuck ninjas. By the way, fuck pirates, too.
Here, Fred Harper is about to devour Molly Crabapple. You know what I like about Fred? He's not a damned ninja!
This is the view that all of us in the back of the Slipper Room usually have of a Dr. Sketchy's session. Hey, Justin, could we get a little closer?
Much better!
Unfortunately, that was the last pose. Thank you to Justin Lussier for the photos and to everyone reading this.
I'm sorry this entry was a little late. There was e-mail trouble. That's why I liked the good old days, when we would blog by pony express. You dang kids! Get off my lawn!
-----
RSS
NYC Events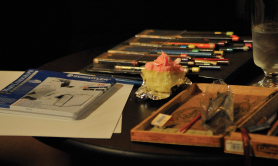 Art Tumblr
Dr Sketchy LA 12-3-13
http://drsketchy.tumblr.com/post/69027079376