Branch Blog - New York, NY
Sat, December 03, 2011 • Swear to Godzilla
Konichiwa, Art Monsters!
Recently at Dr. Sketchy's Anti-Art School, we were privileged to have burlesque legend Jo Boobs pose for us dressed as everyone's favourite daikaijou, Godzilla! Well, okay, it was the American Godzilla (as portrayed by Jay Leno), which was almost nobody's favourite, but, geez, a sexy lady dresses as a giant radioactive lizard for you and all you do is complain. You ingrates make me sick. I'm tempted to not even show you the pictures Kate Black took of the event.
Oh, audience, you know I can't stay mad at you. Here, have some pictures:
Here at Dr. Sketchy's Anti-Art School, we like to think that we have something for everyone, even the weirdest damn foot fetishists in the world. In fact, especially them.
What's this? Godzilla has a smaller, secondary head under his regular head? Godzilla is a redhead? I think I missed the movie this was from.
In these behind-the-scenes images, witness Jo's startling transformation from woman to beast. Also, in the background, you can see Foley and I rehearsing. No, really, we did.
One thing I will say about Jo - she has a nice TAIL on her! No, seriously, her butt is fantastic.
Here, Foley, Yao, and I are judging the one-line drawing contest - a process so intricate it requires all three of us working in concert.
Hey! That one on the left isn't one line! Whom does she think she's fooling?!
Godzilla is poised and ready to pounce, like a kangaroo or something.
Just a small sampling of the victims of Godzilla's rampage.
Two reasons I'm glad to be a mammal - warm blood and cleavage.
And if you weren't paying attention to the one-minute poses, here they are neatly laid out for you.
In this clearly symbolic pose, Godzilla contemplates Aradia Anguirus' mortality.
The theme of our second contest was for the audience to come up with an opponent for Godzilla to do battle with.
Our audience being our audience, they came up with a giant penis.
I'm sure this is a reference to something I'm not getting, but we just decided it was a Chinese knock-off Ultraman.
The winner received a narwhal Squishable, which would also make a worthy opponent for Godzilla.
Melissa and Keith backstage, hanging with Godzilla. And since I mentioned everyone in the actual post, I don't have to mention them at the end.
I've never seen Godzilla akimbo, but I know this much - Akimbo would be a great name for a monster. Think of it - Godzilla vs. Akimbo! Beware Akimbo's elbows of doom!
It's amazing how much art the audience was able to produce while fleeing in panic.
I think this drawing speaks of itself.
Finally, Jo wore a mask based on the classic Showa Godzilla design. Are you happy now? Are you?!
Here we see the whole Sketchy crew in Godzilla suits, courtesy of Yao. Melissa is the only one in focus, just like in real life.
The theme of our final contest was to incorporate the scene of destruction that Godzilla left in his wake.
Wreaking havoc is hard work. Sometimes, you need a rest atop a skyscraper.
Godzilla has toppled the Statue of Liberty and is now fucking it. I don't know if this is disrespectful or EXTREMELY patriotic.
Yes, that is Godzilla shitting out the bodies that he had eaten - bodies that were somehow intact after a journey through his digestive tract. You know what the worst part is? This bastard won the contest!
The customary drinks for the victors.
Yes, I am skilled in unhooking bras. I am available for weddings and Bar Mitzvahs.
Breast. Boobie tit melon. I'm sorry. I was a bit distracted. What I meant to say was - hooter nipple mammary. You know what? Write your own cpation. I'm getting a drink.
Enjoy some art while I cool off a bit.
I will leave you with a good old-fashioned crotch shot, because I like you.
-Syd Bernstein
RSS
NYC Events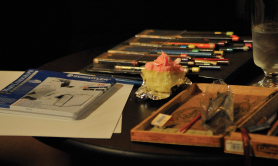 Art Tumblr
https://vimeo.com/81362468