Branch Blog - New York, NY
Wed, January 30, 2008 • Sweet. Petite.
They're creepy and they're kooky, mysterious and spooky, all together ooky, it's Dr. Sketchy's!
*Snap Snap*
Yes time to pay a visit to the Addams Family here at Dr. Sketchy's Anti-Art School, with Albert Cadabra as Uncle Fester and Gal Friday as Wednesday!
Guess who as Pugsley ….*sigh*. Photos and lights by Dr. Simon.
"Oh uncle Fester, don't touch me there!…"
"Touch me there!"

In the TV series Fester was Morticia's Uncle but in the movies he's Gomez's brother ..so I'm not sure just HOW incestuously wrong this horribly wrong tabelu is.
These photos are included cause Gal Friday is purty.
One of our contests was "best incorporation of Thing."….
See? Then Albert takes his robe off and suddenly….
OMG ART MONKEYS CAN SEE THE FUTURE!!! Someone call James Randi! I smell money in this.
Cousin Itt also made an appearance. complete with pasties.
Art Monkeys!
Art!
Prizes and sweet booze!
And to answer Dorothy Grambell's assertion that no one does Tableau Vivants anymore…I give you THIS!
Complete with Family Portrait by Amanda
Thats' all! Come back Feb 2nd For Disco Glam! Thanks to Albert Cadabra, Gal Friday, Syd, Eve, Steve, Justin, Molly, and Dr. Simon. I celebrate you all with a Mamuska!
*snap snap*
-JL
-----
RSS
NYC Events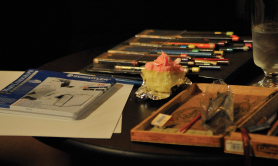 Art Tumblr
Alvin Black III
Frosty's going to melt…at Jingle Belle, Dr Sketchy Chicago Branch
Model: Rhonda Vous

my work on facebook: https://www.facebook.com/AlvinthethirdPainting
http://drsketchy.tumblr.com/post/70620589200